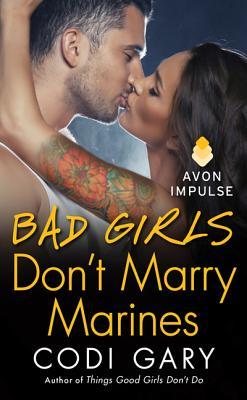 Bad Girls Don't Marry Marines
(Rock Canyon Romance #3)
by
Codi Gary
Publisher: Avon Impulse
Release Date: May 20th 2014
Rate: Enjoyed it (3,5 stars)
Synopsis:
The bad girl who stole his heart …
Valerie Willis has done it all: tattoos, one-night stands, even strip poker. And now she can add getting a messy public divorce to that list. Back in her hometown of Rock Canyon, Val just wants to bury her head and wait for the scandal to pass. But when she suddenly finds herself at a singles' weekend face-to-face with former flame Justin Silverton, hiding from her heart—and the sexy Marine—won't be that simple.
Is just too good to let go …
It's been ten years since Justin kissed Val, but he still remembers the way they just seemed to … fit. Since then he's served his country and helped his father keep their ranch intact, but he's never forgotten Val or her wild ways. So when a twist of fate brings him the chance to chase her across state lines and spend a weekend winning her heart, Justin's all in. Because when he sees something he wants, he fights for it. And he's ready to fight for the right to call this bad girl his one and only.
This book is one of those romances about second chances and rediscovering a teenage love that you thought it was lost.
In this Rock Canyon story, we meet Valerie Willis, one of those Willis girls, meaning trouble. She's done it all: tattoos, one-night stands... So she's known as a bad girl, following the example of her older sister and the little one, too.
But that was before. Now back at Rock Canyon and being free of a marriage of convenience (her father's convenience), she wants to stop being the top trending topic of town and lay low. But when she finds face to face with the one boy who might have steal her hear back when she was a teen, things can get pretty... gossipy.
Justin Silverton, sexy Marine and the boy Val fall for when she was a teenage girl, thought he had a special thing going on with Valerie, until she left Rock Canyon. Now that she's back, he might be willing to show her how well they fit together. Even if that means going to a singles' weekend trip.
However, their relationship might not happen, not only because of their past, but the family feud that seems to haunt both families.
I knew from the very first page I'd connect with the characters. Codi Gary writes her characters perfectly, giving them problems, emotions and personalities that reach the reader on full force. You find yourself wanting to know how the story ends, loving the main characters and hating the "bad guys" (aka Valerie's father, for example. What a je*k).
What I liked about this third book in the Rock Canyon series is that Valerie's described as one of those wild girls that wants to change for a while. She's had some problems and a douchebag ex-husband. So end up feeling for her, trying to make things right and also trying to change her's sisters behavior so she is not part of "one of those Willis girls" disdain. And Justin... Well, he's the perfect book boyfriend. I'm completely speechless when I try to think of something to say about him. He makes the reading pretty interesting, if you know what I mean.
One character I hated a lot was Valerie's father (not a surprise here, right?). He's ruthless, a horrendous father who only seems to care about his status and probably some kind of twisted misogynist. I wanted to scream to my poor iPad's screen every time he was in a chapter. It was beyond infuriating.
As for the plot, is something completely different from the other Rock Canyon's books. If I'm not wrong, the only thing that the novels have in common is the town and that, kind of out of the blue, some of the characters in the other books are mentioned in this story. For my taste, the mention of Gemma Carlson from book two, felt kind of random. Despite this little nuance, the plot was perfectly written: fluid and not repetitive.
I had a great time reading Bad Girls Don't Marry Marines and I am definitely waiting for more Rock Canyon's books. I don't know what this place has, but it does have some pretty hot, sexy, cute and sweet romances worth reading them.
My dream cast:
Marie Avgeropoulos as Valerie
Jensen Ackles as Justin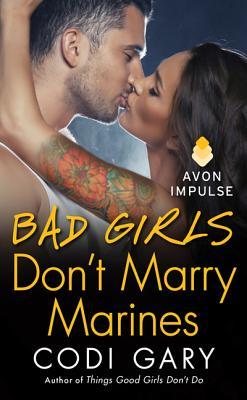 From the time I could put a Disney Book cassette into my little stereo,and read along, books have held a fantastic distraction. When I was eleven, I decided I wanted to be one of those magical people that brought stories to life. Devouring a book a day sometimes, my first romance novel stuck with me. I've always been a sucker for a happy ending (and the great romantic gesture)and that's what I try to put into my stories. I am so honored to be a part of Avon, and am so excited to have my own dreams coming true.