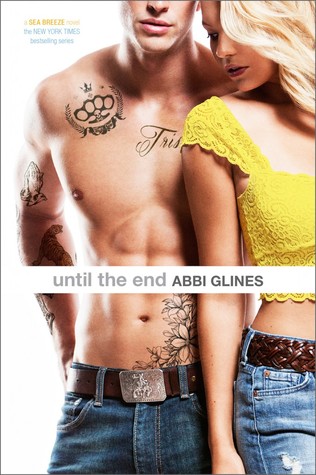 Until the End
(Sea Breeze #9)
by
Abbi Glines
Publisher: Simon Pulse
Release Date: October 28th 2014
Rate: Loved it (4,5 stars)
Synopsis:
The backstory that fans have been clamoring for—how Rock and Trisha fell in love—is the final installment in the Sea Breeze series from New York Times bestselling author Abbi Glines. And don't miss the sizzling Epilogue, where Abbi wraps up all the Sea Breeze couples' stories!
Trisha Corbin always knew how to hide a bruise. With her momma's boyfriends unable to keep their hands off of her, she had no choice. And as long as it meant the guys wouldn't go near her little brother, Krit, it was worth it. But her days of dreaming that Prince Charming would ever come rescue her are far, far in the past.
Rock Taylor always had a plan. Through football, he would rise above the life he was born into. A full ride to play for a major college team was within his reach—assuming he didn't let anything get in his way. But scoring a date with the hottest girl in Sea Breeze was proving harder than expected. Trisha Corbin was every man's walking fantasy, and she wouldn't even glance his way.
When Rock finally does get Trisha in his truck, it isn't for a date. It's because he picks her up on the side of the road, beaten and bruised and walking to the local hospital. Before Rock knows it, football is no longer his life. Trisha Corbin is. And he'll do anything to save her. And keep her.
In addition to Rock and Trisha's love story, this special novel contains the wrap-up stories of all your favorite Sea Breeze couples: Sadie and Jax, Marcus and Low, Cage and Eva, Preston and Amanda, Jess and Jason, Krit and Blythe, and Dewayne and Sienna.
Until The End is the conclusion of the Sea Breeze series. For us fans must be a sad moment in our reading life, but I can tell you that you won't be disappointed with the story. It would make up for not having our favorite characters in the following books written by Ms. Glines.
In Until The End we get to read how Rock and Trisha got to be the sweet, golden couple we have met in all the Sea Breeze books. We have read comments about them in the previous books, but we didn't know how they started or the real story behind all of it. So it's pretty awesome to see how the first Sea Breeze couple started. Plus it gives us readers an insight of how the boys started as friends and also where the girls who already knew the boys stood where they were all in high school. Moreover, we get to see Krit as a teenager, something that made us love him more!
But the book does not end with them. As their story of how they end up together gets to its end, we start to get glimpses of all the characters' lives after their happy ending in the multiple Sea Breeze books. So this is your chance to see how your favorite characters are doing and have an epic finale of ten years after their individual stories. I can tell you one thing as a Sea Breeze fan: epic. Simply epic for a series finale.
I can't express with words how much I was fangilring while reading the book and as I kept reading, the book started to get better and better and with each new "story", a new insight into our favorite characters' life together and their happily ever after. I think the author did a wonderful job and gave a sneak peak of what her characters life are after fighting and getting together.
With each distinct voice for each character and the beautiful written we are all familiar with, I wouldn't think of a better way to give an ending to a series like a tribute like this.
And the Until The End ending? Swoony, amazing and brings the fangirl that every fan/reader of Abbi Glines' books have inside themselves. That ending needs to happen! Like I would do anything to have a series like that! Please, Ms. Glines tell me it's going to happen or else I think I might combust!
It's sad to let go all the amazing characters in the Sea Breeze series and I would have been crying, like ugly crying this Christmas, if it were not for the lovely tribute and the mind-blowing ending. I'm not giving anything away and if you want to know what I'm talking about, you need to read Until the End. And if you have not read the Sea Breeze series... What? Are you crazy? You need to start them like right now. Leave everything you are doing and prepare yourself to swoon over romantic and epic stories and hot, sexy and reformed bad boys! I'm telling you this series are a must read and ones you don't mind re-reading from time to time.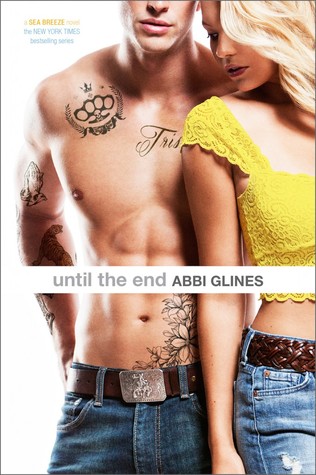 Since publishing her first novel Breathe in May of 2011, Abbi has also released The New York Times bestselling Seabreeze Series which includes Breathe, Because of Low, While It Lasts, Just For Now and Sometimes It Last, The Existence Trilogy that includes the USA Today Bestseller Ceaseless. New York Times and USA TODAY bestsellers The Vincent Boys and The Vincent Brothers. Last but not least her most popular series to date, Rosemary Beach which includes The New York Times and Wall Street Journal bestsellers Fallen Too Far, Never Too Far, Forever Too Far, Twisted Perfection and Simple Perfection. Her newest book scheduled to be released on December 17th, 2013 is Misbehaving (Seabreeze).
When Abbi isn't locked away in her office typing away she is hauling her kids to and from their many social activities. You could say her second job is the Glines Kids personal chauffeur. It's a rather illustrious job.