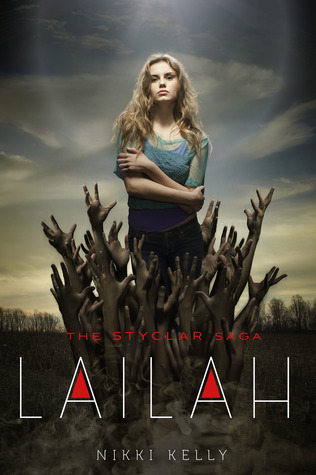 Lailah
(The Styclar Saga #1)
by
Nikki Kelly
Publisher: Feiwel and Friends
Release Date: October 7th 2014
Synopsis:
The girl knows she's different. She doesn't age. She has no family. She has visions of a past life, but no clear clues as to what she is, or where she comes from. But there is a face in her dreams – a light that breaks through the darkness. She knows his name is Gabriel.
On her way home from work, the girl encounters an injured stranger whose name is Jonah. Soon, she will understand that Jonah belongs to a generation of Vampires that serve even darker forces. Jonah and the few like him, are fighting with help from an unlikely ally – a rogue Angel, named Gabriel.
In the crossfire between good and evil, love and hate, and life and death, the girl learns her name: Lailah. But when the lines between black and white begin to blur, where in the spectrum will she find her place? And with whom?
Styclar fans, as you may know Jonah and Gabriel are very different. One is a
Second Generation Vampire, c
ocky, self-assured, troubled and with a hard exterior, and the other is an Angel Descendant, l
oving, protective, determined, at times lost, and somewhat mysterious. So you can guess they have also different traditions when it comes to celebrate Christmas.
In Gabriel's realm it would be like the climax of all Christmas parties. I can imagine his realm all with cheerful angels singing and all full of christmas decorations, and while they are also serious and deadly they can set aside those qualities to celebrate Christmas all together.
In Earth, Gabriel, as the loving angel he is, he would make everything to make, unintentionally, all the female population swoon over him. That means he would make Christmas happen in his house. He would buy the tree, make a big dinner and give presents that would impress everyone. And to make it more special he would probably take Lailah to the Symphony or something like that. He'd be determined to bring the spirit of this festivity to everyone.
As for vampires, I don't think they would be as cheerful for Christmas as the angels would be. Or any other festivity that's not Halloween, right? I bet for them it's just another day.
However, Jonah might have a little Christmas spirit inside of him. Jonah as a human would follow all the traditions of his family. He'd celebrate Christmas with all of them and he would probably celebrate New Year's Eve at some huge, wild party with his friends, and likely to end up with some girl
(probably me...)
. He'd be the perfect brother and buy all the presents he could find for her sister, just to see her smile.
However, the Jonah we know from Lailah, the Second Generation Vampire, would probably crash Gabe's party. Would get drunk, change the music to some rock music, loud enough to wake up an entire city, and would start dancing "Damon-style" while trying to seduce Lailah.
Yep... still wishing it was me. However, I bet these two would drop all their Christmas traditions if Lailah asked them for a real and happy holidays. It wouldn't be strange to find these two singing some carol songs. What do you think?
No matter what, I know who I would invite to celebrate the holidays and have an awesome time. And you? Who would you invite over?