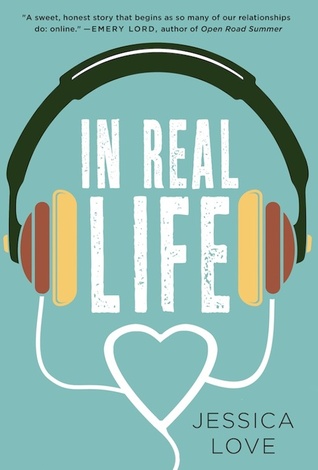 In Real Life
by
Jessica Love
Publisher: St. Martin's Press
Release Date: March 1st 2016
Synopsis:
Hannah Cho and Nick Cooper have been best friends since 8th grade. They talk for hours on the phone, regularly shower each other with presents, and know everything there is to know about one another.
There's just one problem: Hannah and Nick have never actually met.
Hannah has spent her entire life doing what she's supposed to, but when her senior year spring break plans get ruined by a rule-breaker, she decides to break a rule or two herself. She impulsively decides to road trip to Las Vegas, her older sister and BFF in tow, to surprise Nick and finally declare her more-than-friend feelings for him.
Hannah's surprise romantic gesture backfires when she gets to Vegas and finds out that Nick has been keeping some major secrets. Hannah knows the real Nick can't be that different from the online Nick she knows and loves, but now she only has night in Sin City to figure out what her feelings for Nick really are, all while discovering how life can change when you break the rules every now and then.
by Jessica Love
The drive from Orange County, CA to Las Vegas, NV is one that I have done more times than I can count. It's about a 4 hour drive and it's a straight shot - just one freeway the entire way. I'm now at the point where I can afford to fly to Vegas when I want to go, but even though I don't make that drive anymore, I still have some fond memories of cruising through the desert on the 15 freeway.
The drive there is never that bad. You're excited for your trip. You're pumped up. You made a new playlist full of party songs, and you and your friends talk excitedly the entire time about all the fun plans you have for when you arrive. It doesn't matter that the drive is dusty and boring, you focus on the landmarks that let you know you're getting closer to your destination. Barstow, CA, home of the McDonald's on an old train car. Baker, CA home of the World's Tallest Thermometer and Alien Jerky, whatever that is. The Zzyzx Rd. exit. Then you cross the state line into Nevada, passing the huge roller coaster at Buffalo Bill's in Primm, NV and you know Vegas is close. The 4 hour drive went by so quickly, you hardly even noticed.
Driving back to Orange County from Las Vegas is another story entirely. Number one, you're always tired. You had too much fun and partied too hard, so there is none of the exuberance and excitement that you had on the way there. Number two, people come in to Vegas at all different times, but everyone leaves on Sunday morning, so the traffic is a mess. That two lane freeway that you sped in on? Now it's at a dead stop. If there's an accident, it's even worse. That 4 hour drive? It now takes 6 or sometimes even 8 hours. Now, the landmarks don't matter. It's just you and the car and the desert, and, trust me, you all become best friends.
The worst drive I had home from Las Vegas involved both number one and number two above. And it also involved me, my future husband, and his three friends (so five of us total, four large men and me...I'm 6 feet tall) all smooshed into a tiny Toyota Tercel. Seriously, the smallest person in the car was 5'10". All of us had our knees up in our chins. And there was traffic. And and accident. By the time we got home, 7 hours after we left, I pretty much never wanted to speak to any of them again, my future husband included.
Oh, and someone also threw up on the World's Tallest Thermometer. But I'm not naming names.
This is why I always fly to Vegas now. The drive there is no problem, but the drive home? I'll pass.
Jessica Love is a high school English teacher in Los Angeles, California, where she met her husband and her two tiny dogs online. She is the co-writer of Push Girl with Chelsie Hill.