Seven Days of You
Publisher: Little, Brown Books for Young Readers
Release Date: March 7th 2017
Genre: Young Adult, Contemporary, Romance
Synopsis:
Sophia has seven days left in Tokyo before she moves back to the States. Seven days to say good-bye to the electric city, her wild best friend, and the boy she's harbored a semi-secret crush on for years. Seven perfect days…until Jamie Foster-Collins moves back to Japan and ruins everything.
Jamie and Sophia have a history of heartbreak, and the last thing Sophia wants is for him to steal her leaving thunder with his stupid arriving thunder. Yet as the week counts down, the relationships she thought were stable begin to explode around her. And Jamie is the one who helps her pick up the pieces. Sophia is forced to admit she may have misjudged Jamie, but can their seven short days of Tokyo adventures end in anything but good-bye?
Hello Cecilia! We are super excited to have you in our FFBC tours.
Favorite Book?
Favorite TV show?
Buffy the Vampire Slayer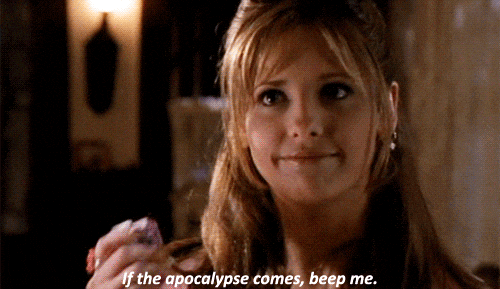 Favorite movie?
My Neighbor Totoro
Your Favorite Song?
Winter by Tori Amos
Favorite Food?
Ramen! (I love it so much, I would put aside my vegetarianism for it.)
Name 3 fictional places you would move to in a heartbeat.
Stars Hollow, the Kingdom of Kyrria, Colby.
Who is your perfect fictional boyfriend?
Levi from Fangirl. Anyone who will bring you gingerbread lattes without you needing to ask first is someone to hold onto. But Willow and Tara from Buffy the Vampire Slayer are my favorite fictional couple of all time.
Favorite Quote?
"Toxic masculinity ruins the party again," – My Favorite Murder (podcast)
What do you find yourself "Fangirling" over?
The Buffyverse is probably the fandom I'm the most invested in, but I just finished the short, very sweet Netflix show Lovesick, and I find myself thinking about the characters like they're my BFFs. A solid first step on the road to fangirling.
If you could meet one author, dead or alive, who would it be?
I would love to have coffee with Nina LaCour. She's written some of the most beautiful books I've ever read, and I'd really like the chance to tell her how much they've meant to me.
Could you tell our Book Addicts a little bit about SEVEN DAYS OF YOU?
SEVEN DAYS OF YOU is about 17-year-old Sophia, who has one week left in Tokyo before she moves back to the States with her family. At the beginning of the week, Jamie, a boy she has awkward history with, moves back to Tokyo from boarding school. They have seven days together to figure out what they still mean to each other and what will happen next. It's also about: falling in love with a person and a city, late-night karaoke, friendships that are hard to hold onto, summer thunderstorms, and kissing.
The book is set up in Japan and you have clearly spent a lot of time there. What would you say it is the best thing about living/travelling there?
I grew up between Tokyo, the States, and France, but Tokyo is the place I miss the most. I loved being a teenager there—staying out late with friends, riding the train everywhere, eating in ramen shops. I moved back Japan a few years ago—this time, to Sapporo—which was snowy and so beautiful. Going to Japan again instantly felt like coming home. If I could, I'd move back now in a heartbeat.
How did you come up with the story? Did you find inspiration in any other story/movie/show and how has this affected your writing?
I started writing SEVEN DAYS OF YOU nearly 8(!) years ago, so I've poured nearly a decade's worth of my loves into it. I was inspired by how Stephanie Perkins made Paris feel like a main character in Anna and the French Kiss, and by the dreamy, hazy way Sofia Coppola captures what it feels like to walk around Tokyo in Lost in Translation, and by the long, wistful, all night conversations the two main characters have in Before Sunrise. But maybe the biggest inspiration of all was the last week I spent in Sapporo when I was living there a few years ago. Nothing that happened to Sophia happened to me, but there was a certain feeling and mood to that week that I was constantly trying recreate while writing. I think that mood is what helped make this story feel vivid and alive to me.
Tell us your favorite quote from SEVEN DAYS OF YOU.
"
I felt like I was floating. Lost between this second and the next, between all these different versions of myself I'd left scattered across the globe."
This line was originally in a section that got cut from the manuscript, but I was determined to find a way to keep it. It means the most to me, because it describes exactly how I felt as a teen moving around a lot and leaving so many places behind.
Is there a specific scene that you had the most fun to write?
I have a younger sister, and I've always been drawn to stories about sisters, so I really, really liked writing the scenes between Sophia and Alison. I love exploring sibling relationships, because they're based on this very specific common history, but also, each person has their own, unique reaction to that history. Writing is never easy, but I wrote Sophia and Alison's scene in Tokyo Tower in basically one take (which is very, very rare for me). I felt like I was just watching the two of them interact and then transcribing what I saw. It was like they were telling me their story instead of the other way around.
If you had to pick one song to be the Theme Song for SEVEN DAYS OF YOU – Which one would you pick?
Midnight City
by M83. I love the ecstatic, urgent energy of it and how the whole song feels like how it feels to stay out all night in a neon city. If Sophia's last week in Tokyo were distilled into trailer form, I like to think it would be set to this.
Imagine that we get to see your book on the big screen (how awesome would that be?). Who would you pick to play your characters?
Oooooh! I watch lots and lots of movies and love talking about them for hours afterward, so seeing SEVEN DAYS OF YOU being made into one would be beyond a dream come true. That being said, I have no idea who I would picture being cast in it! I have such specific images of the characters in my head, it's honestly hard to imagine anyone else when I think of them. You guys will have to tell me who comes to mind for you!
Is there any recommendations you could give your readers to be in the "perfect mood" to read SEVEN DAYS OF YOU (specific music, snacks…)?
Make a cup of hot tea, put on the Spirited Away soundtrack, get a box of Pockys (the strawberry flavor is my favorite!) and sit in a comfy chair by a window on a stormy day.
What's next for you?
My next novel will be a standalone and another contemporary YA. I'm very anxious about talking about my writing while it's still in progress, so I haven't said much about it online yet. But I will give you a few small hints. It's about: friendship, summer, trains, and good-byes.
Something to say to our Book Addicts?
Even if you're busy or stressed of feel like you don't have any time, never, ever feel guilty for making a cup of tea and curling up with a book. The world can be so overwhelming, and self-care really does matter. You deserve those quiet places to dive into for a while.
Thank you so much for everything, Cecilia!
PI was born in France but then moved to Japan. And then to the States. And then back to Japan. And then back to the States. When I was 18, I moved to New York where I was homesick for nearly seven years. After that, I got a job in a cold, snowy city in northern Japan and, from there, I headed to Scotland where I got my master's in creative writing and lived off tea, writer tears, and Hobnobs.
I still live in the U.K. and spend most of my time writing, reading, baking, and getting emotional over Tori Amos albums. Hobbies include pretending Buffy the Vampire Slayer is real, collecting a lipstick to match every Skittle flavor, and listening to a thousand podcasts a day.
A pup named Malfi and a Renaissancist named Rachel are my favorite things in the world. That, and books. I should probably mention the books again.