From New York Times and USA Today bestselling author Ilsa Madden-Mills Amazon Top 10 Bestseller
"One of the top five New Adult romances of 2013." --A is for Alpha, B is for Book Blog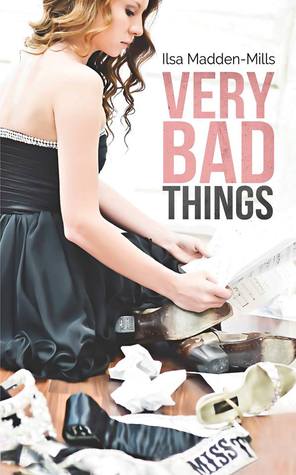 Very Bad Things
(Briarcrest Academy #1)
by
Ilsa Madden-Mills
Publisher: Little Dove Publishing
Release Date: September 9th 2013
Synopsis:
Born into a life of privilege and secrets, Nora Blakely has everything any nineteen-year-old girl could desire. She's an accomplished pianist, a Texas beauty queen, and on her way to Princeton after high school. She's perfect...
Leaving behind her million-dollar mansion and Jimmy Choos, she becomes a girl hell-bent on pushing the limits with alcohol, drugs, and meaningless sex.
Then she meets her soulmate. But he doesn't want her.
When it comes to girls, twenty-five-year-old Leo Tate has one rule: never fall in love. His gym and his brother are all he cares about... until he meets Nora. He resists the pull of their attraction, hung up on their six year age difference.
As they struggle to stay away from each other, secrets will be revealed, tempers will flare, and hearts will be broken.
Welcome to Briarcrest Academy... where sometimes, the best things in life are Very Bad Things.
From NYT and USA Today Bestselling Author Ilsa Madden-Mills comes Very Wicked Things, Book 2 in the BA series. Amazon Top 100 New Adult Romance
"Ilsa Madden-Mills slayed my heart in the best kind of way. Cuba's pain was like my very own. Absolutely gut-wrenching." ~Crystal Spears, International Bestselling Author
"Cuba is hot, delicious, and intoxicating...the perfect book boyfriend. Be prepared for a heartbreaking and addictive read." ~Tijan, New York Times Bestselling Author
"Ilsa does it again with Very Wicked Things. You'll be holding on to your seat through a few wicked twists so buckle up and enjoy the ride. ~ Megan Smith, USA Today Bestselling Author
Very Wicked Things
(Briarcrest Academy #2)
by
Ilsa Madden-Mills
Publisher: Little Dove Publishing
Release Date: May 13th 2014
Synopsis:
Born on the poor side of town…
Ballerina Dovey Beckham is a scholarship student at Briarcrest Academy, determined to prove she's more than just a girl with the wrong pedigree. She does whatever it takes to succeed in her endgame, even if it means surrendering her body…but never her heart.
Until the day she meets him, and he rips apart all her well-laid plans. Suddenly, the girl everyone thought unbreakable might just shatter.
Born into wealth and privilege…
Cuba "Hollywood" Hudson is rich, spoiled, and a star football player. With his fast cars and superficial girlfriends, he lives the high-life, hiding his secrets from the world.
Until the day he meets her, and she offers him something he's never tasted…love.
But once in a lifetime kind of love doesn't come easy. When trust crumbles and doubts creep in, both will have to decide to either love or let go…forever.
Welcome to Briarcrest Academy, where sometimes, only the wicked survive.
Ilsa Madden-Mills writes about strong heroines and sexy alpha males that sometimes you just want to slap. She spends her days with two small kids, a neurotic cat, and her Viking husband. She collects magnets and rarely cooks except to bake her own pretzels. When she's not typing away at a story, you can find her drinking too much Diet Coke, jamming out to Pink, or checking on her carefully maintained chocolate stash. She loves to hear from fans and fellow authors.
Hosted by: