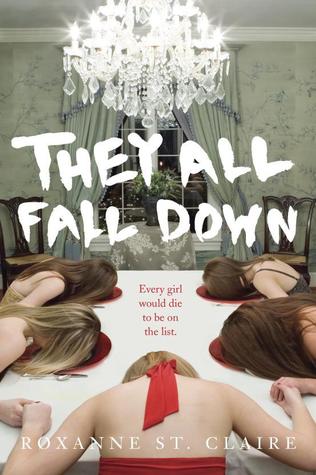 They All Fall Down
by
Roxanne St. Claire
Publisher: Delacorte Press
Release Date: October 14th 2014
Rate: Enjoyed it (4 stars)
Synopsis:
Pretty Little Liars meets Final Destination in this YA psychological thriller that will have readers' hearts racing right till the very end!
Every year, the lives of ten girls at Vienna High are transformed.
All because of the list.
Kenzie Summerall can't imagine how she's been voted onto a list of the hottest girls in school, but when she lands at number five, her average life becomes dazzling. Doors open to the best parties, new friends surround her, the cutest jock in school is after her.
This is the power of the list. If you're on it, your life changes.
If you're on it this year? Your life ends.
The girls on the list have started to die, one by one. Is it a coincidence? A curse? Or is the list in the hands of a killer?
Time is running out for Kenzie, but she's determined to uncover the deadly secret of the list...before her number's up.
They All Fall Down is the perfect read for this upcoming Halloween night. It has the mystery of weird "accidental" deaths and the scary factor of being the possible next target that all good thriller YA stories have to had to be a good Halloween read.
The story starts with Kenzie Summerall. She's a pretty regular girl who has an overprotective woman due to a family tragedy, likes Latin and might as well be categorized in the nerdy-girl list, up until the Hottie List results come up, putting her in the Fifth position.
The Hottie List is a list of the hottest girl in Vienna High, voted by the male population in Vienna High, and something all girls in that high school obsessed about because of what it means: a social pass to be popular. However, Kenzie doesn't care about this.
People who haven't talked to her ever since, start talking her, texting her and asking for friend requests. Even her crush since, Josh, starts talking to her and wanting to be more than friends. But it gets even more bizarre when accidents start to happen. And to no other that to the girls on the Hottie List. When being pretty turns out to be accidentally deadly, Kenzie starts to investigate along with school's bad boy, Levi, and they find even more unraveling secrets than they were expecting.
I am a huge fan of Pretty Little Liars and old that mystery that grips the whole story, so I wanted to read They All Fall Down and I was beyond curious to see how Roxanne St. Claire would bring this scary touch to the story.
I have to admit that at first I was kind of annoyed with the Hottie List. I found it a sexist thing and wouldn't understand why all the girls on Vienna High were dying to be on it. However, the main character seemed to think the same as me and I was kind of relieved about that. She didn't consider herself pretty and more of a nerdy girl. She questions her social status all the time and studies her new relationships considering that if all this is happening due to the List or because of her. I liked that she was not one of those conceited girls who change immediately once they have the chance to socially rise and forget about her friends. And apparently she's the only smart woman in Vienna High to feel at least offended but what the Hottie List represents. That was what made me like her from the very first page and one of the reasons I kept reading the book. She's realistic, curious and brave which makes her the perfect main character for any story.
As for the scary factor in this book, I have to say that the author knew how to get us in that mood. The deaths of the characters are mere accidents, leaving to wonder if there's actual a real killer after the girls or simply a curse or destiny who's trying to wipe out the pretty girls. Well, beauty has a price, and the author used that along with a freaky accidents to make readers doubt about the true origin and meaning of the deaths, giving us littles clues as the story keeps going, until the very end when all the twisted plot is unravelled.
When I discovered all the secrets, I was left kind of disappointed. The tension in the story grows to an spectacular level and the secrecy, mystery and the feeling of being constantly in danger, were amazing, making this book a wonderful read. So I was expecting something else. I don't know how to explain it without making spoilers, but let just say I was expecting to be a more shocking truth than it was.
The romance in the book was a good one. I was team Levi the very first instant Josh and Levi were introduced in the story, but I also was left wondering why Levi hadn't express any interest before the Hottie List was out and Kenzie was on it.
Their relationship is not a first-sight love. On the contrary, with all the secrecy, mystery and weirdness in Kenzie's actual life, she does not trust Levi a bit. And why should she? She's the very bad-boy prototype in her high school and we all know that only means trouble. This leads to Kenzie's love live to be a little messed up since she has two boys interested in her: one her long-time crush, Josh, and bad boy, Levi, who has an undeniable connection and attraction to. While trying to survive and unravel the List mystery, the author gives also time to the main character to find what's best for her despite all reasonable thoughts.
I had a great time reading, All Fall Down and I highly recommend it to all those YA readers who like thriller stories and for fans of Pretty Little Liars. The only thing left me wondering was that, with that ending, if we are going to be able to read more about Kenzie. If that's the case I am so looking forward to read the next book written by Roxanne.
Roxanne St. Claire is a New York Times and USA Today bestselling author of more than thirty novels of suspense and romance, including three popular series (The Bullet Catchers, The Guardian Angelinos, and Barefoot Bay) and multiple stand alone books.
In addition to being a six-time nominee and one-time winner of the RITA Award, Roxanne's novels have won the National Reader's Choice Award for best romantic suspense three times, as well as the Daphne du Maurier Award, the HOLT Medallion, the Maggie, Booksellers Best, Book Buyers Best, the Award of Excellence, and many others. Her books have been translated into dozens of languages and are routinely included as a Doubleday/Rhapsody Book Club Selection of the Month.
Win (1) finished copy of They All Fall Down by Roxanne St. Claire (US Only)