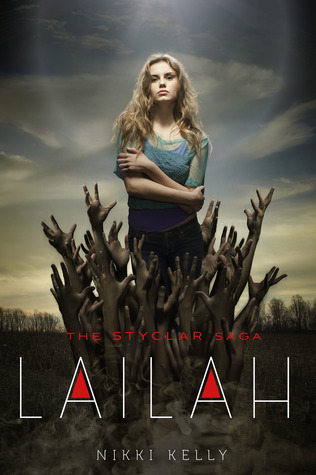 Lailah
(The Styclar Saga #1)
by
Nikki Kelly
Publisher: Feiwel and Friends
Release Date: October 7th 2014
Synopsis:
The girl knows she's different. She doesn't age. She has no family. She has visions of a past life, but no clear clues as to what she is, or where she comes from. But there is a face in her dreams – a light that breaks through the darkness. She knows his name is Gabriel.
On her way home from work, the girl encounters an injured stranger whose name is Jonah. Soon, she will understand that Jonah belongs to a generation of Vampires that serve even darker forces. Jonah and the few like him, are fighting with help from an unlikely ally – a rogue Angel, named Gabriel.
In the crossfire between good and evil, love and hate, and life and death, the girl learns her name: Lailah. But when the lines between black and white begin to blur, where in the spectrum will she find her place? And with whom?
Gabriel and Jonah both want to protect her. But Lailah will have to fight her own battle to find out who she truly is.
You know those stories that shatter your books world with its awesomeness? I find them the hardest to review because I'm not sure I could find all the right words to explain why the story blew my mind and how much I'm dying to read the second book. It would be a gibberish between a crazy-bookish-fan and a fangirl. Lailah is one of those stories and definitely one of my favorite books of this year.
I have to confess that the vampire has been overused in the YA world, so I try to avoid them. Not because the story is bad, but because I arrived a point where I was bored of the same old. However, Lailah had a dark touch to it, bringing more supernatural creatures like angels and another dimension like styclar plena that made me re-think it. As you can see, Nikki Kelly's story won my internal battle and I found myself with a story that had the best of both world: a Supernatural touch with its own personality and story.
I do not want to give anything from the story, but mainly Lailah is different. She has lived many lives and she has no idea where she comes from. With visions from a past life and no family ties, she ends up meeting an injured Jonah while leaving work. That's when her story starts.
The author did an excellent job. I like those stories who held the tension and mystery until the very end, just to wait until the very last page to make you scream due to the high cliffhanger that held the story. She knew had to do that, while putting in massive danger all her characters, had time for swoon-worthy moments and creating a true villain.
The level of secrets and unsaid things were so many that you can't see them coming. The story is fluid and gives the impression that Lailah's past tries to catch up to her, unraveling secrets and reveling shocking truths up to the final moment when you are left speechless. If a story has the potential to make us feel that way, it's not just a must read book, but it has all the numbers to be a favorite one among other YA reads.
There were some funny moments, some others were the reader can make a connection with all the characters and some action scenes that keep the reader on edge until the very last page.
One of the catching things in this story is meeting Lailah. Her past and her present. As the story goes we get to know her, but she also tries to find herself, trying to figuring out her role and her relationship with Gabriel and Jonah. She's one of those characters who have a badass and sweet side all mixed up and we see either side in the right moments.
Another important characteristic in this story that brings a magnetic pull to the story is the relationship with both Gabriel and Jonah. While it is a love triangle is one of those love triangles you like because of the so many differences between the two male characters. I liked that one took for granted the connection with Lailah and the other saw her true nature, the best of both worlds. And that was one of the important things that made me pick up a team in this love triangle. Good guys with angelic intentions are overrated and the ones who are supposed to be the bad ones end up being the best, sweetest and loyal man alive. So yes, I am team Jonah all the way down. Nikki Kelly has made me a Jonah addictive and a Styclar Saga fan.
Lailah is definitely a page-turner and one of those YA stories you cannot missed. Beautifully written and with some breath-taking characters that have the potential to ruin you for future fictional boyfriends, the Styclar Saga exceeded my expectations and I have the pleasure to say to all of you, Book Addicts, that is one of those stories you might end up re-reading sooner than expected.
My dream cast for Lailah
Jensen Ackles as Jonah
Gabriella Wilde as Lailah
Alex Pettyfer as Gabriel
Nikki Kelly's dream cast for Lailah
As you might have guessed after two weeks of blog tour, after you read Lailah it might end up in a emotional turmoil over choosing the male fictional character that make you swoon and fall in love.
I knew from the very first pages where Jonah was involved that I would end up being Team Jonah all the way down. But what make me fall in love with him to the point of asking Nikki to send me real Jonah to Spain was this quote:
"I might desire the darkness within her, but I fell in love with the light that I heard in her laughter."
Now ladies you may swoon, faint, fangirl and even toss your underwear at Jonah, 'cause he might be the bad boy, the one that means trouble, but he was the only one who truly saw Lailah.
Not saying anything else! You'll have to read Lailah to know more. And if you do, remember to keep Jonah on your good side.
The funny thing about this whole thing is that I don't have to fight my US sister over fictional characters. Why? Because while I'm team Jonah, she's team Gabriel. So I'm willing to recruit more fans to Jonah's team.
But I have to convince you first, right? So, here you have Jonah's bio and an exclusive interview with him! If you also want to read Gabriel's go to
A Reading Nurse
.
Jonah: Second Generation Vampire
Pureblood Master (Maker): Emery
Turned from mortal to Vampire in Florida, but originally from New Jersey
Physical Features: Dark, disheveled hair, hazel eyes, tall and brooding!
Attributes: Cocky, self-assured, troubled, hard exterior
Jonah: Couple drinks in a bar, then see where the night takes us…
Jonah: I've done some bar work, can't say it was the worst job though it had its upsides.
Jonah: Red Hot Chili Peppers—Under the bridge
Jonah: The Wizard Of Oz (it was the movie I watched with my Sister)
Jonah: Not sure why first kisses are a big deal, if I like you, I'm gonna kiss you.
Dogs or Cats? Dogs
Walks on the beach or hiking in the mountains? Hiking in the mountains
Flowers or Candy? Are you kidding? Neither.
Rock Concert or the Symphony? Rock concert
Boxers or Briefs? You think I wear underwear?!
Jonah: What, you never played with fire? Too afraid you might get burnt? Put your hand in mine; see if you feel the spark, see if you melt in my flames. You might like it.
(This is definitely me right now)
I was born and raised only minutes away from the chocolately scent of Cadbury World in Birmingham, England. So it will probably come as no surprise that when I'm not dreaming in Vampires & Angels, I dream in chocolate! For the past ten years I have lived in West London with my hubby and two dogs, Alfie - the Pug & Goose - the Chihuahua.
LAILAH is my debut novel, and first launched in serial form to wattpad, a readers & writers community. Within just 6months, LAILAH had over a million reads and thousands of comments and votes.
Since then, The Styclar Saga has gone on to pick up a traditional deal with Feiwel & Friends, and LAILAH, the first book in the series is due for release on October 7th 2014.
These days I spend my time balancing my amazing job of writing fantasy fiction, with my other, very important role of Chocolate Connoisseur. I like to multitask and do the two together. It makes me happy.
Win (1) hardback of Lailah by Nikki Kelly (US Only)