by Spencer Blohm
For fans of
Gillian Flynn's bestselling novel Gone Girl
, the excitement for the film version to eventually hit theaters has been unbearable. However, the wait is nearly over, since the film is set to hit theaters in the States on October 3rd. The reviews are already in from the critics, though, so unsure viewers might be wondering how the movie fared in comparison to the book, and, most importantly, has it been worth the anticipation?
The idea for the film version of Gone Girl actually arrived in 2011, before the book was even released, when producer Leslie Dixon got her hands on a manuscript of the book and brought it to the attention of Reese Witherspoon with the hope she'd be interested in producing it with her. The two women brought in Bruna Papandrea and Flynn's film agent Shari Smiley to develop the film and shop it to studios. The resulting film deal landed Flynn the nice sum of $1.5 million for the rights to her book,
which was announced
only three weeks after the book was released.
All too often we've seen a favorite book chopped up and thrown together in order to make a complex story fit into a two hour film. This will hopefully not be the case with Gone Girl, given that Flynn herself adapted the book into a screenplay (a task she was able to accomplish thanks to her experience as a film writer). It's incredibly rare for a book's author to actually create the screenplay, but it is surely a good sign that the integrity of the story will remain intact.
Aside from Flynn's involvement with the film, the creators also have another good thing going for them: David Fincher. For those unfamiliar with Fincher's work his list of directorial credits include The Social Network, The Curious Case of Benjamin Button, and yet another book adaptation, The Girl with the Dragon Tattoo, which was both a critical and commercial success (you can easily view most of his
film work online
and on demand through providers like your
local DirecTV
). His work is highly recommended and well known for his trademark dark cinematography and a lingering sense of anxiety that will excellently serve the Gone Girl story. To make things even better, Fincher has once again partnered with
Trent Reznor
and
Atticus Ross
to create the score for the film. The last time these three men worked together, on The Social Network, Reznor and Ross walked away with the Academy Award for Best Original Score.
As for who will actually be playing the couple at the center of the film, those honors go to
Ben Affleck
and British actress
Rosamund Pike
. Pike, despite having a lengthy resume on both sides of the pond, is a largely unknown actress to the general public, so Gone Girl should serve as a launching pad for her career into the realm of household name actors. As for Affleck, well, he's been on the A-list in Hollywood since the 90's, and his name being attached to the project has certainly drawn plenty of additional attention. Affleck is already earning praise for his role as Nick with
The Concourse
who stated, "This is one of Affleck's more demanding performances, and also one of his best." He isn't alone in receiving praise either, with
Salon complimenting Pike
saying, "Pike may well get an Oscar nomination for this performance, and I daresay she deserves it, but not because Amy resembles a human being. She resembles about six of them, as if Amy were a female archetype splintered into overlapping and competing personalities by the pressure of trying to live up to her beauty, her blondness, her wealth and her 'love affair' with the 'perfect guy.'"
The stars' performances aside, the film is getting fantastic reviews, from people who have, and haven't, read the book. According to
Rotten Tomatoes
out of 46 reviews, 39 have been positive and they've given the film an 85% "Fresh" rating. While the film won't be hitting theaters until October 3rd, I think it's safe to say that the fans will agree.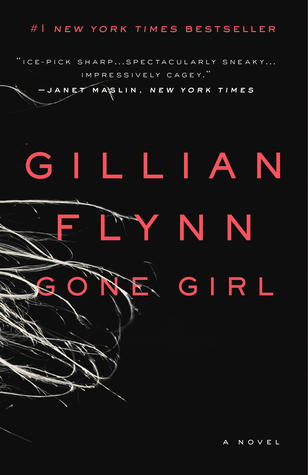 Gone Girl
by
Gillian Flynn
Publisher: Broadway Books
Release Date: April 22nd 2014
Synopsis:
On a warm summer morning in North Carthage, Missouri, it is Nick and Amy Dunne's fifth wedding anniversary. Presents are being wrapped and reservations are being made when Nick's clever and beautiful wife disappears. Husband-of-the-Year Nick isn't doing himself any favors with cringe-worthy daydreams about the slope and shape of his wife's head, but passages from Amy's diary reveal the alpha-girl perfectionist could have put anyone dangerously on edge. Under mounting pressure from the police and the media—as well as Amy's fiercely doting parents—the town golden boy parades an endless series of lies, deceits, and inappropriate behavior. Nick is oddly evasive, and he's definitely bitter—but is he really a killer?
Gillian Flynn is an American author and television critic for Entertainment Weekly. She has so far written three novels, Sharp Objects, for which she won the 2007 Ian Fleming Steel Dagger for the best thriller; Dark Places; and her best-selling third novel Gone Girl.
Her book has received wide praise, including from authors such as Stephen King. The dark plot revolves around a serial killer in a Missouri town, and the reporter who has returned from Chicago to cover the event. Themes include dysfunctional families,violence and self-harm.
In 2007 the novel was shortlisted for the Mystery Writers of America Edgar for Best First Novel by an American Writer, Crime Writers' Association Duncan Lawrie, CWA New Blood and Ian Fleming Steel Daggers, winning in the last two categories.
Flynn, who lives in Chicago, grew up in Kansas City, Missouri. She graduated at the University of Kansas, and qualified for a Master's degree from Northwestern University.