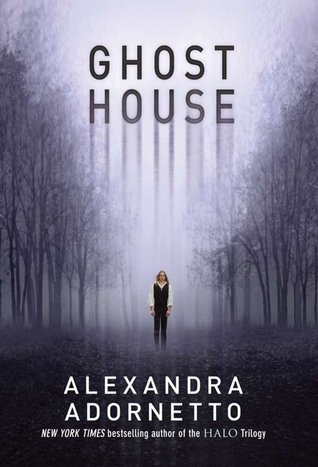 Ghost House
(The Ghost House Saga #1)
by
Alexandra Adornetto
Publisher: Harlequin Teen
Release Date: August 26th 2014
Rate: Enjoyed it (4 stars)
Synopsis:
From the New York Times bestselling author of Halo comes the start of a beautiful and powerful new series.
After the loss of her mother, Chloe Kennedy starts seeing the ghosts that haunted her as a young girl again. Spending time at her grandmother's country estate in the south of England is her chance to get away from her grief and the spirits that haunt her. Until she meets a mysterious stranger…
Alexander Reade is 157 years dead, with secrets darker than the lake surrounding Grange Hall and a lifelike presence that draws Chloe more strongly than any ghost before. But the bond between them awakens the vengeful spirit of Alexander's past love, Isobel. And she will stop at nothing to destroy anyone who threatens to take him from her.
To stop Isobel, Chloe must push her developing abilities to their most dangerous limits, even if it means losing Alex forever… and giving the hungry dead a chance to claim her for their own.
I was shocked when I entered on goodreads to mark this book as read and see a lot of people not liking the book. When I finished this book I went all crazy because I needed to know what happened next. I liked the story, the plot and the sinister and terrifying touch that Alexandra Adornetto used the welcome us to her new "Ghost World".
After Chloe's mother passes away, Chloe has to face a world without her and also the dead that she could control before are showing again. With a not so welcome trip to England, where her grandmother lives, all that ghost world that was left behind resurfaces in full force and she finds herself in the middle of a doomed love story that ended up with the lovers dead.
With a possessive vengeful spirit wondering around and a sweet, handsome gentleman who Chloe finds herself really attracted to, her life becomes more dangerous than ever.
I believe the plot from this story has a lot of potential and that Alexandra did a great job. It is true that the story is kind of slow, but for some reason I didn't find this annoying. Quite the opposite. I think the author gave enough time for the readers to understand Chloe's emotional state after losing her mother and brings out a normal teenage behavior towards something she does not want to do. After that, we have a transition, where we meet Alexander and scary Isobel while getting pieces of their story. As the story progresses the relationship between Alexander and Chloe is stronger than ever and I was always hanging into the book to read more of their private moments, wondering what would happen between them at the end. As for Isobel, her craziness and scary aura, keeps growing until the very end. It is true that there are some things unsaid and could be considered plot holes, but I think the story behind the pages is a good one.
The only thing I didn't quite know how to handle was Isobel's behavior. I knew she had issues: she was a possessive woman and her life was not easy. But her behavior as a ghost was very temperamental, you didn't know what would do: if she would end up killing everyone over a rant or going on inoffensive ghost without leaving the creepy part. I think this is because the author wanted to make her also a victim of life, but I would have wanted more scary Isobel all the time.
You know those stories who look like they are about to have an ending that would might leave you sad, because it was not the ending you were hoping for, but a good and nice one? The ones that allow the reader to sleep at night? Well, then Ghost House was about to be that book until the very last chapter where your inner book addict might go all crazy about it. I was left with some many questions, and not about the obvious one (How...?), but with a bunch of them that would might unravel all the mystery in the series.
I truly enjoyed Ghost House. It had the scary factor from the very first page and an impossible romance during the turmoil of dealing with the death of a loving one and a creepy and scary ghost trying to kill the main character. It is a slow story, that If you are willing to read it with patience might surprise you.
Alexandra Adornetto was only fourteen when she published her first book, The Shadow Thief, in Australia. Her U.S. debut, Halo, debuted in Fall 2010 on the New York Times bestseller list a week after it was published and has been published in over twenty countries. The daughter of two English teachers, she admits to being a compulsive book buyer who has run out of shelf space, and now stacks her reading "in wobbly piles on my bedroom floor." Originally from Melbourne, Australia, Ally is now a college student in the U.S.