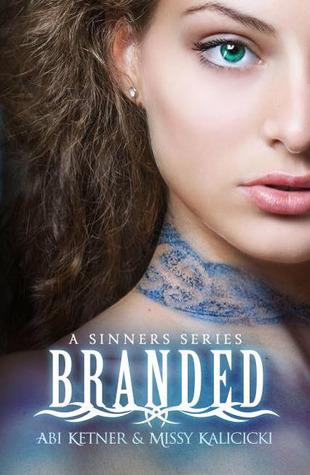 Branded
(Sinners #1)
by
Abi Ketner
&
Missy Kalicicki
Publisher: Abi and Missy Books
Release Date: February 18th 2014
Rate: Loved it (5 stars)
Synopsis:
Fifty years ago the Commander came into power and murdered all who opposed him. In his warped mind, the seven deadly sins were the downfall of society. He created the Hole where sinners are branded according to their sins and might survive a few years. At best.
Now LUST wraps around my neck like blue fingers strangling me. I've been accused of a crime I didn't commit and now the Hole is my new home.
Darkness. Death. Violence. Pain.
Now every day is a fight for survival. But I won't die. I won't let them win.
The Hole can't keep me. The Hole can't break me.
I am more than my brand. I'm a fighter.
My name is Lexi Hamilton, and this is my story.
Branded is a young adult dytopian story about a girl, Lexi, who has been accused of a crime she didn't commit and sent to the most horrible place in the world, The Hole, where the branded are no longer treated as human beings.
Showing all the horrors from a new society, Branded is a dark and twisted dystopian about survival and having the freedom to make your choices. It's filled with action, romance and the crudeness with how both authors describe Lexi's world and that brings a lot of emotions to the story.
In every page there was something that make you feel sorry for the main character and think how unfair her world is, and it also horrifies you just by thinking about the possibility of having a future like that. There's a lot of hunger and death in the Hole and there's almost no law between the sinners. The place is so perfectly described that it's easy to have a picture of how would look like in your head.
It's true that in the very beginning you can feel kind of lost. There's a lot of questions in the reader's head and a lot of theories start to arise in your head. However, all the questions are answered by the end of the story and all the secrets and twists and turns from the plot become more shocking than ever.
The characters are incredible. Each have their own personality and their role in each story and they grow and change throughout the story.
Lexi is a brave, strong woman and definitely a good and kind one, 'cause she's in the worst jail of all times, where she won't come out ever again, for a crime she never commit and has been branded in blue for it, the brand of Lust, making her a target in the Hole.
You are instantly feeling for her and her desire to have the choice to decide whether she lives or dies. Wishing for her to find a way out of the Hole.
Cole's Lexi's personal guard and you know from the very beginning that although he's trying to be distant and behave how every other guard in the Hole behave with the prisoners, he's far from a regular guard. He's definitely a good guy, a badass one, with a soft side that would make this story an epic one.
Branded is definitely one of my favorite reads. After a lot of dystopian reads I thought I would find it not as original as I think it is or that I wouldn't like as much as I did, but I was happily shocked when I found myself kind of addicted to Lexi and Cole's relationship, sinner and guard, and how the story develops from a girl being punished to a revolution to defend the people in the Hole. I love it and that's why I highly recommend it to fans of The Hunger Games and Divergent and tell you that even if you might think this is just another dystopian YA read, it's not. It's much more!
I cannot wait to see how the Sinners series continue, but I have definitely became one of those fans anxiously waiting to read the second book. And all that's left to say is that I am glad I had the chance to read this amazing story.
My dream cast for Branded:
Andre Ziehe as Cole
Adriana Lima as Lexi
Sharman Moore as Bruno
Elle Fanning as Alyssa
Abi Ketner Is a registered nurse with a passion for novels, the beaches of St. John, and her Philadelphia Phillies. A talented singer, Abi loves to go running and spend lots of time with her family. She currently resides in Lancaster, Pennsylvania with her husband, triplet daughters and two very spoiled dogs.