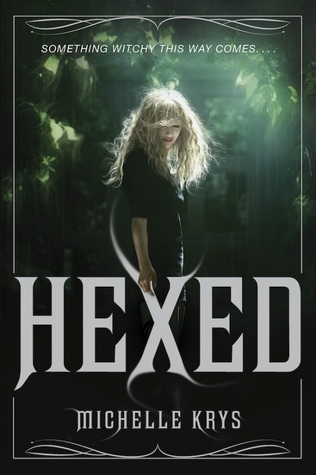 Hexed
(The Witch Hunter #1)
by
Michelle Krys
Publisher: Delacorte Press
Release Date: June 10th 2014
Synopsis:
If high school is all about social status, Indigo Blackwood has it made. Sure, her quirky mom owns an occult shop, and a nerd just won't stop trying to be her friend, but Indie is a popular cheerleader with a football-star boyfriend and a social circle powerful enough to ruin everyone at school. Who wouldn't want to be her?
Then a guy dies right before her eyes. And the dusty old family Bible her mom is freakishly possessive of is stolen. But it's when a frustratingly sexy stranger named Bishop enters Indie's world that she learns her destiny involves a lot more than pom-poms and parties. If she doesn't get the Bible back, every witch on the planet will die. And that's seriously bad news for Indie, because according to Bishop, she's a witch too.
Suddenly forced into a centuries-old war between witches and sorcerers, Indie's about to uncover the many dark truths about her life—and a future unlike any she ever imagined on top of the cheer pyramid.
For those fans of witchy Young Adult stories, Hexed is definitely a must read. Funny and entertaining, Michelle Krys put all his sense of humor into her characters creating a unique and magic story!
In Hexed, we are inside Indigo Blackwood's head. She's a regular teenager, blond hair and popular cheerleader. With a mom who has a strange shop full of what she likes to call magical objects and that is obviously something Indigo doesn't want to talk about while being with the popular crowd. Her mother might be considered an eccentric, but Indigo has always heard her mother telling her to always protect a dusty and old Bible. And Indigo has always helped her mother, because even if she wants to be popular, she loves her mom.
However, Indigo's world change when she runs over a guy, sees him die and two strangers go to her high school searching for the Bible her mother's so desperate to hide from people. Imagine her surprise, when she finds herself asking the same guy she run over with her car for help and with her dorky neighbor, searching for an antique Bible that it turns out is a Witch Bible that in the wrong hands might suppose the annihilation of all witches? And more shocking? Indigo might be a witch. Oh, and the supposed dead guy? Bishop? Is also a witch.
Suddenly, Indigo is a high school cheerleader slash possibly witch who finds herself in the middle of a centuries old battle between witches and sorcerers. Moreover, she unveils some secrets and truths than will shatter her.
Indigo is a very particular character. As a reader, you might have some sort of love and annoying moments with her. Meaning that she's not the very best person with her poor neighbor, who's always trying to be Indigo's friends, helping her and being nothing but kind and turns out to be one of her most loyal friend. And Indigo simply avoids her 'cause she's not considered popular and had nothing in common. What? Yeah... but Indigo's personality and sense of humor makes up for her behavior towards Paige. After all, Indigo is just being a teenager and she's trying to find her place in high school. And I think that one of the things that make her more "real" are all her good and bad choices during this story.
Read Hexed from Indigo's point of view was what made this story so funny and I found myself laughing more than once throughout the story. Since I was expecting just to read about witches and not laughing so much with Indigo's monologue, it made me love even more Indigo's journey with Bishop.
Another lovable character, aside from Paige, is Bishop who's supposed to be a bad boy with an "I-don't-care-about-anyone-but-myself" attitude, who turns out to be, at least to me, the male version of Indigo. He's funny, cocky and Indigo seems to bring out the best and the worst of him. Indigo, sometimes, wants to strangle him. Even I wanted to do that! But you cannot help but laugh after that thought.
Their relationship starts as one with mistrust due to the fact that Bishop might be behind the attack on her mothers shop, but lately we discover why he's not the culprit. Also, the imminent and possible transformation of Indigo into a witch make these two characters spend more time together and finding the Bible also contributes to their growing attraction. Plus Indigo's boyfriend makes it easier for her to forget all about him.
Michelle Krys writing style is pretty amazing. I loved how she made Indigo sound and act like a complete teenager, without losing that fun touch characteristic of hers. The plot was everything that the synopsis promises and more. The author combined the magic of witches and sorcerers and the danger of being the target of the attacks. But there's also space to some teenage drama, some real and shattering drama, first love and funny moments.
In my opinion, a good story is one that completely surprises you, makes you laugh and makes you fall in love with the characters and the story. And Michelle Krys with Hexed accomplished all that.
As for the finale of this story, maybe I was expecting something more big or more shocking, but it was a good one. Definitely open to a second book that I'm dying to read.
Fun, dangerous and witchy, Hexed has become one of my favorite reads from this year and I am definitely waiting to read more books in the Witch Hunter series.
My dream cast for HEXED:
Chloë Grace Moretz as Indigo
Wade Poezyn as Kaidan
by Michelle Krys
First, a confession. I don't listen to music while I write—I prefer complete and total silence. In fact, I'm one of those weirdos who doesn't listen to music that much at all, and I needed the direction of my music-loving friends to get on the right track. Having said that, I think we've come up with a pretty great playlist for Hexed.
1) Dark Horse by Katy Perry
How could I not include a song with the lyrics 'so you want to play with magic?' Nuff said.
2) Black Sheep by Gin Wigmore
So much of Hexed is about Indie's transformation from a girl who will do anything to fit in and keep her place at the top of the cheer pyramid to a girl who puts her values and morals first, popularity be damned. This song represents the moment Indie takes that plunge. (Plus the lyrics "got a pistol for a mouth" perfectly describe Indie.)
3) Guns and Diamonds by The Transplants
If you only listened to the upbeat tempo, you'd never guess that this song is so dark. The juxtaposition is a great metaphor for when Indie discovers that the world she thought she knew is actually a much scarier and more unforgiving place than she ever could have realized.
4) It Ends Tonight by All American Rejects
Listen to this after reading chapter 11 and you'll understand why it's a great pick for this playlist.
5) In the house/In a heartbeat by John Murphy
You might remember this song from the soundtrack for 28 Days Later. Sure, it's creepy, but it reminds me a lot of Indie and Bishop's relationship. (Let me explain!) While it starts off a bit slow, but you get the feeling early on that it's going build up to something big and great and unexpected, and all that tension and anticipation is almost as much fun as when the song finally does reach its climax.
6) Empire by Shakira
I stole the idea for this song from Amy Tintera, author of Reboot, who tweeted that she could see it on a lot of YA book playlists. And there's a good reason for that: This song perfectly captures the intensity of love, and that feeling of falling hard and fast for someone.
7) My Immortal by Evanescence
The raw emotion in the singer's voice gives me shivers every. single. time. It's haunting and sorrowful and really captures that flayed-open-wound feeling of grief and loss. And that's all I can really say about that without being spoilery.
8) I Love It by Icona Pop
I know, this song has been killed by the radio, but bear with me because it fits. The thing about this song is that it screams "I don't care' so vehemently that you begin to suspect that they really do care a bit after all. It would be a great companion to Chapter 27, when Indie takes the 'Screw you, I didn't like you anyway' approach to dealing with rejection.
9) Blitzkrieg Bop by The Ramones
How could I not include a Ramones song? After all, they're one of Bishop's favorite bands (He's even wearing a Ramones T-shirt when we first meet him in Hexed!). I imagine this song playing during Bishop and Indie's long, hot drive to the Guadalupe sand dunes.
10) Uprising by Muse
Well the title says it all, doesn't it? This song is about revolution and fighting back against forces that try to control you. It's perfect for the turning point when Indie decides she isn't going to take it lying down anymore.
Michelle Krys lives with her husband and son in Northwestern Ontario, Canada. She works part-time as a NICU nurse and spends her free time writing books for teens. Michelle is probably not a witch, though she did belong to a witchcraft club in the fifth grade and "levitated" people in her bedroom, so that may be up for debate. Hexed is her first novel. Visit her at michellekrys.com or follow @MichelleKrys on Twitter.
BLOG TOUR GIVEAWAY!
Win (1) finished copy of HEXED by Michelle Krys (US Only)
BONUS GIVEAWAY!
Stop into Michelle's Blog,
and enter the pre-order campaign giveaway for more signed swag AND a hand-made BEAUTIFUL leather journal (Witch's Bible recreation from the book!!!!) It's also open internationally. Isn't it BEYOND awesome?!
GIVEAWAY ends on June 10th 2014