It's here! Today is the day you can get the beautiful new bindups of Jennifer L. Armentrout's LUX Series! Are you as excited as we are?
Doesn't it look amazing? You don't want to miss these or the bonus content included in each bindup! We have all the information for you below, and a fabulous giveaway for you. Make sure you check it all out and enter for your chance to win!
Beginnings: Obsidian & Onyx
(Lux #1-2)
by
Jennifer L. Armentrout
Publisher: Entangled: Teen
Release Date: June 3rd 2014
Synopsis:
Now available together for the first time. Don't miss Obsidian and Onyx, the first two books in Jennifer L. Armentrout's bestselling Lux series. Also includes bonus content exclusive to the print edition!
Starting over sucks.
When we moved to West Virginia right before my senior year, I'd pretty much resigned myself to thick accents, dodgy internet access, and a whole lot of boring... until I spotted my hot neighbor, with his looming height and eerie green eyes. Things were looking up.
And then he opened his mouth.
Daemon is infuriating. Arrogant. Stab-worthy. We do not get along. At all. But when a stranger attacks me and Daemon literally freezes time with a wave of his hand, well, something... unexpected happens.
The hot alien living next door marks me.
You heard me. Alien. Turns out Daemon and his sister have a galaxy of enemies wanting to steal their abilities, and Daemon's touch has me lit up like the Vegas Strip. The only way I'm getting out of this alive is by sticking close to Daemon until my alien mojo fades.
If I don't kill him first, that is.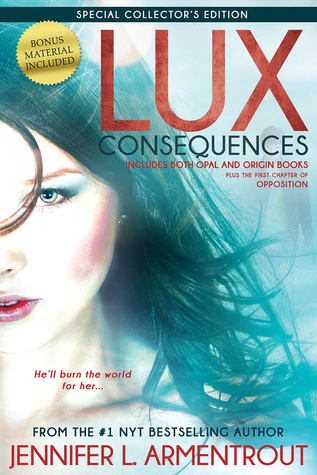 Consequences: Opal & Origin
(Lux #3-4)
by
Jennifer L. Armentrout
Publisher: Entangled: Teen
Release Date: June 3rd 2014
Synopsis:
No one is like Daemon Black.
When he set out to prove his feelings for me, he wasn't fooling around. Doubting him isn't something I'll do again, and now that we've made it through the rough patches, well... There's a lot of spontaneous combustion going on.
But even he can't protect his family from the danger of trying to free those they love.
After everything, I'm no longer the same Katy. I'm different... And I'm not sure what that will mean in the end. When each step we take in discovering the truth puts us in the path of the secret organization responsible for torturing and testing hybrids, the more I realize there is no end to what I'm capable of. The death of someone close still lingers, help comes from the most unlikely source, and friends will become the deadliest of enemies, but we won't turn back. Even if the outcome will shatter our worlds forever.
Together we're stronger... and they know it.
OPPOSITION Comes out August 5th! Pre-Order It Now!
# 1 New York Times and USA Today Bestselling Author Jennifer L. Armentrout Lives in West Virginia.
All the rumors you heard about her state aren't true.
Well, mostly. When she's not hard at work writing, she spends her time, reading, working out, watching zombie movies, and pretending to write.
She is the author of the Covenant Series (Spencer Hill Press), the Lux Series (Entangled Teen), Don't Look Back (Disney/Hyperion) and a yet untitled novel (Disney/Hyperion), and new YA paranormal series with Harlequin Teen.
Jennifer also writes New Adult and Adult romance under the pen name J. Lynn. The Gamble Brothers Series (Tempting the Best Man/Tempting the Player) and Wait for You. Under her pen name, she is published with Entangled Brazen and HarperCollins.