Tear You Apart
(Beau Rivage)
by
Sarah Cross
Publisher: EgmontUSA
Release Date: January 27th 2015
Synopsis:
An edgy fairy tale retelling of "Snow White" set in the world of Kill Me Softly for fans of Once Upon a Time and Grimm.
If you want to live happily ever after, first you have to stay alive.
Viv knows there's no escaping her fairy-tale curse. One day her beautiful stepmother will feed her a poison apple or convince her on-again-off-again boyfriend, Henley, to hunt her down and cut out her heart before she breaks his. In the city of Beau Rivage, some princesses are destined to be prey.
But then Viv receives an invitation to the exclusive club where the Twelve Dancing Princesses twirl away their nights. There she meets Jasper, an underworld prince who seems to have everything—but what he really wants is her. He vows to save her from her dark fate if she'll join him and be his queen.
All Viv has to do is tear herself away from the huntsman boy who still holds her heart. Then she might live to see if happily ever after is a promise the prince can keep. But is life as an underworld queen worth sacrificing the true love that might kill her?
Faced with a possible loophole to her "Snow White" curse, Viv goes underground, literally, to find the prince who's fated to rescue her. But is life safe in the Underworld worth the price of sacrficing the love that might kill her?
POP CULTURE CAN'T GET ENOUGH OF TWISTING FAIRY TALES: ABC's Once Upon a Time and NBC's Grimm continue to pull in high ratings. And with the anticipated Angelina Jolie Maleficent (2014), the film adaptation of Stephen Sondheim's Into the Woods (2014), and Kenneth Branagh's Cinderella (2015), Hollywood is infected with fairy tale fever.
CAMEOS FROM FAVORITE CHARACTERS: Viv, who first appeared in Kill Me Softly trailed by her brooding boy-toy Henley, takes center stage in this new Beau Rivage tale. Other familiar characters including Blue and Jewel are back to help her defy her destiny.
TEENS LOVE THIS FAIRY TALE WORLD: Kill Me Soflty was a 2013 YALSA Teens' Top 10. Readers have been clamoring for a sequel.
A FRESH TAKE ON THE FAMILIAR: Drawing on "Snow White," "The Twelve Dancing Princesses," and "Rumpelstiltskin," Tear You Apart is very conscious of the way these stories have pervaded pop culture, twisting known tropes into an exciting new story that can stand on its own.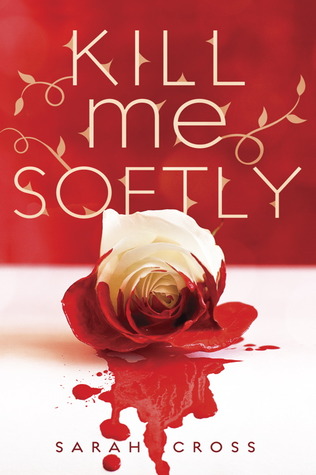 "After the Ball" is a short story set in Beau Rivage, a city where fairy tales come to life, and ancient stories are played out again and again. You can read more about the cursed fairy-tale characters of Beau Rivage in Sarah Cross' novel
Kill Me Softly
.
Read and/or download AFTER THE BALL here
.
The Tale of Genji by Murasaki Shikibu (old favorite), a more recent favorite is Hilary Mantel's Thomas Cromwell trilogy
This changes all the time. Lately I've been watching a lot of anime. Some favorites include: Kids on the Slope, Hunter X Hunter, Chaika - the Coffin Princess, Space Brothers
The Petrified Forest, You Can't Take it With You, Sleepy Eyes of Death series
"I Want You" by Fiona Apple (Elvis Costello cover)
Butter
Etheria, Sweet Valley, Gotham City
Batman. Aside from some occasional brooding I think he'd be fairly low maintenance (busy fighting crime), and his butler, Alfred, would always be available if I needed someone to make me dinner or critique my latest manuscript.
I don't have an absolute favorite quote, but here are two "tear you apart" quotes that I like. One, a mother to her daughter in the movie Stoker: "I can't wait to watch life tear you apart."Healthy relationship, right? Very Snow White-esque. The second is from Haruki Murakami's Kafka on the Shore: "Memories warm you up from the inside. But they also tear you apart."
Cute animals. Does that count?
Gillian Flynn, maybe? It's hard to pick just one! I've been fortunate to meet a lot of my favorite YA authors.
Thank you for reading this! I hope you enjoy Tear You Apart. Oh, also, the Kill Me Softly ebook is only $1.99 for a limited time, so if you want a copy, now's the time to get it!
Tear You Apart is a modern take on Snow White where Snow White is in an on-again-off-again (and seriously damaged) relationship with the Huntsman who's supposed to kill her. It takes place in Beau Rivage, where people are cursed to live out fairy tales. Viv, our Snow White, doesn't believe in happily ever after anymore. The stepmother she used to adore has fully embraced her role as the Evil Queen, and now that Viv's boyfriend, Henley, has been cursed to be the Huntsman, she's afraid he'll betray her, too. Viv doesn't feel safe, she's afraid to trust anyone and keeps lashing out at Henley and making things worse . . . and then her prince shows up and offers her an escape from her dark fate. But that escape means giving up on Henley, who she's still in love with, despite the mess their relationship has become.
Nothing crazier than the fairy tales themselves. I didn't poison any apples or practice sleeping in a glass coffin, sadly.
My favorite fairy tale is "The Steadfast Tin Soldier" by Hans Christian Andersen. It's about a one-legged toy soldier who falls in love with a paper doll ballerina because he thinks, based on her pose, that she only has one leg, too. He's kind of an outcast among the toys, looking for a connection that is based on an illusion . . . and then in the end (SPOILER ALERT) the soldier and the ballerina get tossed into a stove and die. He melts down to a heart-shaped lump, she burns up. It's so sad! I guess I'm a sucker for stories about toys who die tragic deaths. I don't know that the fairy tale has affected my published novels in any way (although there are a couple references to it in Tear You Apart), but one of my earlier works shares some of the same themes, to the point where I wanted to open the book with a passage from the ending of "The Steadfast Tin Soldier."
Kill Me Softly is a newcomer's take on Beau Rivage, while in Tear You Apart, you get an insider's view. In Kill Me Softly, Mira is just learning about fairy-tale curses; Tear You Apart's Viv grew up haunted by hers. That awareness (or lack of awareness) really shapes each story. The setting opens up a little in Tear You Apart, and readers will get to see the fairy-tale underworld (home to the nightclub where the Twelve Dancing Princesses dance).
It's probably a tie between the scenes with Luxe (Jewel's Goldilocks-cursed girlfriend) and the scene in Rafe's enchanted rose garden.
I love them both, but I think the Tear You Apart cover has a slight edge. That bold green won me over the moment I saw it.
Probably unknown (or relatively unknown) actors. I don't have a dream cast in my head, and I feel like the actors who would be right for each role aren't necessarily famous.
Ooh, fun question . . . and also, difficult question! I have playlists for both books, and if I had to narrow it down, I'd choose Paramore's "Brick by Boring Brick" for Kill Me Softly, and Ke$ha's "Dancing With Tears In My Eyes"for Tear You Apart.
I definitely have more stories to tell in Beau Rivage. That's all I can say right now!
Thank you!
Sarah Cross is the author of the fairy tale novels
Kill Me Softly
and Tear You Apart (coming January 2015), the superhero novel
Dull Boy
, and the Wolverine comic "The Adamantium Diaries." She loves fairy tales, lowbrow art, secret identities and silence.