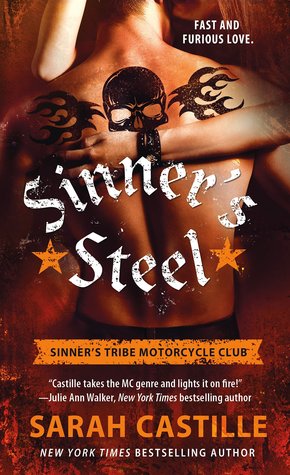 Publisher: St. Martin's Press
Release Date: October 6th 2015
Genres: Adult, Romance
Synopsis:
HE'S HELL ON WHEELS.
Tall, dark, and dangerously handsome, Zane "Tracker" Colter is the strong, silent type of tattooed muscle biker who drives women wild. But as a master of strategy for the outlaw MC club, Sinner's Tribe, he doesn't have time to play around with groupies and biker chicks-especially when he can't stop thinking about Evie, the girl who got away…
SHE'S PLAYING WITH FIRE.
Evie's been in love with Zane ever since they were children-until he broke her heart and disappeared. Now he's back in her life, bigger and badder than ever. Zane is stunned by how beautiful and confident Evie's become, using her artistic talent to customize motorcycles. He wants her so bad, he'd ride through fire to win her back. There's one problem: Evie is dating his deadliest rival-the leader of the Black Jacks-and if Evie and Zane hook up, there'll be hell to pay…
Sarah Castille's Sinner's Tribe series is:
"Raw, rugged, and romantic." -Eden Bradley, New York Times bestselling author
"A sexy and dangerous ride!"-Roni Loren, New York Times bestselling author
A gunshot cracked the silence, and then another. Zane's heart pounded and he slid his hand into his cut, closing his fingers around his gun. "Stay here until I come back for you. Hide." He ran back into the store and spotted Shooter just outside the front door, firing his gun into the trees.
"Who is it?" He shouted from the cover of the doorway. "You see Axle? One of the Jacks?"
"Squirrel." Shooter yelled. "Red tail. Tricky little bugger but I got him trapped in that bush."
"Jesus fucking Christ." Zane ran over to Shooter and grabbed his wrist. "Put the weapon down." He unleashed all his tension in a volley of curses directed at Shooter, his mental state, his mother, and his dubious parentage. "This is a surveillance mission. That means you don't draw attention to yourself. You don't shoot things. Gunfire has a nasty tendency to rile up civilians and then they call the cops. And right now the ATF are camped out in the sheriff's office. You want to explain to the fucking ATF why you're shooting squirrels on private property?"
"He was on your bike, gnawing on your seat."
"Gimme that gun." Zane grabbed the weapon and fired three shots into the bush. "Take that you goddamn fucking bastard," he hollered. "You wanna eat my leather? Now you're gonna be eatin' crow."
Zane handed him the gun. "You got a new job now, prospect. Clean my seat, fix the leather, then bring me that fucking squirrel's hide."
Adrenaline pounded through his veins as he returned to the store, whether from the shoot-out or finding out Evie had split with Mark he didn't know, but damned if he could get himself under control. He took a few deep breaths as he crossed through into the shop, clenching and unclenching his fist by his side.
"Here." Her voice was faint. "Can I come out now?"
He followed her voice to a storage closet at the far end of the shop and found her reaching for a tube of paint on the top shelf.
"I figured I'd tidy up while I was in here and I saw a box of paint I'd forgotten about. Could you get it down for me?" Half in the shadows of the small, musty room, she looked back over her shoulder. "I'm not quite tall enough."
Zane walked up behind her and grabbed the box. His body brushed up against her, his hips against her ass, his chest to her back, his chin brushing over her floral-scented hair.
Walk away. Walk away. Walk the hell away.
He slid his free hand around her waist and pulled her against his body. So perfect. So right.
"Zane." Her voice came out in a choked whisper.
"You're not with Mark?" He leaned down and pressed his lips to her ear, inhaling her scent of jasmine as the adrenaline streamed through his veins, straight down to his groin.
His hand splayed over her stomach, pulling her close, and he nuzzled the hair away from her neck. "You got a man, Evie?"
"No." Her voice wavered. "But . . . I kinda . . ."
He shoved the box onto a lower shelf and reached around to catch her jaw in his hand, pulling her head back against his shoulder, exposing her neck to the heated slide of his lips. Somewhere, in the foggy recesses of his mind, he knew he was being too rough, but he was barely in control and rough was as gentle as he could be. "So no one's gonna shoot me between the eyes if I do this?" With his thumb he gently stroked the underside of her breast.
Evie sucked in a sharp breath, trembled. "No."
His hand slid higher, tracing over her ribs until he held the full weight of her breast in his palm. "You gonna stop me from touching you, sweetheart?" He feathered kisses along the column of her neck, praying she didn't deny him because he was already so far gone he didn't know if he would be able to stop.
"Zane." She shuddered, her nipples peaking beneath her thin cotton tank top. He circled one taut nipple with his thumb and she groaned and wiggled her ass against his erection, nestled tight in the crack of her cheeks.
"Stop me, Evie," he whispered. "Because I can't stop myself."
She melted against him with a sigh, her body softening. For the briefest of moments he soared, higher and higher, soaking in her light, her warmth, her essence . . .
He should have known what would happen if he flew too close to the sun.
New York Times and USA Today Bestselling author, Sarah Castille, writes contemporary erotic romance and romantic suspense featuring blazingly hot alpha heroes and the women who tame them. A recovering lawyer and caffeine addict, she worked and traveled abroad before trading her briefcase and stilettos for a handful of magic beans and a home near the Canadian Rockies.