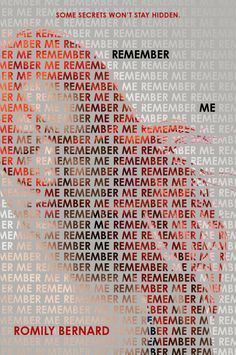 Remember Me
(Find Me #2)
by
Romily Bernard
Publisher: HarperTeen
Release Date: September 23rd 2014
Read an excerpt
In the sequel to Find Me, Wick Tate, sarcastic teen hacker, is back and once again dealing with criminals and corrupt cops…and a brooding new love interest. Will Wick persevere when some secrets refuse to stay hidden?
Wick had thought her troubles were over.
But she should've known better.
Not only is she embroiled in a new murder case, which starts with a body with "Remember Me" carved into it and doesn't stop there, but she also discovers new evidence surrounding her mother's suicide…which leads her right back to her imprisoned deadbeat dad. And she has to deal with her flirty new hacker friend, Milo, sniffing around—which her boyfriend, Griff, isn't too happy about.
The pressure might be too much as secrets—including Wick's own—climb to the surface.
Remember Me is an edge-of-your-seat thrilling read that'll have readers turning the pages at lightning speed! The paperback of Find Me is on sale simultaneously, and a digital original novella from Romily, featuring Griff, is on sale just a few weeks before!