Welcome to the 2014 Debut Authors Bash! Today we have in my site, an amazing YA author. Melissa Landers!!! She's the author of the Alienated series and one of my favorite authors.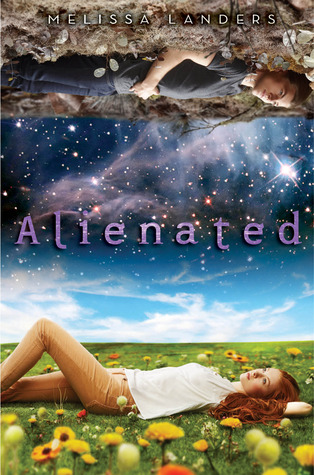 Publisher: Disney Hyperion
Release Date: February 4th 2014
Synopsis:
Two years ago, the aliens made contact. Now Cara Sweeney is going to be sharing a bathroom with one of them.
Handpicked to host the first-ever L'eihr exchange student, Cara thinks her future is set. Not only does she get a free ride to her dream college, she'll have inside information about the mysterious L'eihrs that every journalist would kill for. Cara's blog following is about to skyrocket.
Still, Cara isn't sure what to think when she meets Aelyx. Humans and L'eihrs have nearly identical DNA, but cold, infuriatingly brilliant Aelyx couldn't seem more alien. She's certain about one thing, though: no human boy is this good-looking.
But when Cara's classmates get swept up by anti-L'eihr paranoia, Midtown High School suddenly isn't safe anymore. Threatening notes appear in Cara's locker, and a police officer has to escort her and Aelyx to class.
Cara finds support in the last person she expected. She realizes that Aelyx isn't just her only friend; she's fallen hard for him. But Aelyx has been hiding the truth about the purpose of his exchange, and its potentially deadly consequences. Soon Cara will be in for the fight of her life—not just for herself and the boy she loves, but for the future of her planet.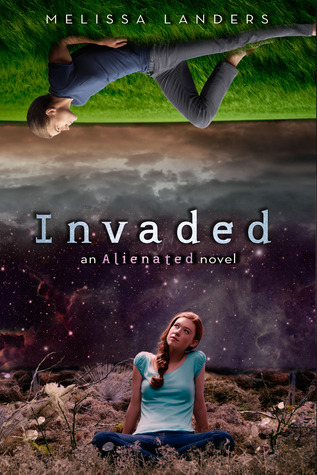 Publisher: Disney-Hyperion
Release Date: February 3rd 2015
Synopsis:
The romantic sequel to Alienated takes long-distance relationships to a new level as Cara and Aelyx long for each other from opposite ends of the universe...until a threat to both their worlds reunites them.
Cara always knew life on planet L'eihr would be an adjustment. With Aelyx, her L'eihr boyfriend, back on Earth, working to mend the broken alliance between their two planets, Cara is left to fend for herself at a new school, surrounded by hostile alien clones. Even the weird dorm pet hates her.
Things look up when Cara is appointed as human representative to a panel preparing for a human colony on L'eihr. A society melding their two cultures is a place where Cara and Aelyx could one day make a life together. But with L'eihr leaders balking at granting even the most basic freedoms, Cara begins to wonder if she could ever be happy on this planet, even with Aelyx by her side.
Meanwhile, on Earth, Aelyx, finds himself thrown into a full-scale PR campaign to improve human-L'eihr relations. Humans don't know that their very survival depends on this alliance: only Aelyx's people have the technology to fix the deadly contamination in the global water supply that human governments are hiding. Yet despite their upper hand, the leaders of his world suddenly seem desperate to get humans on their side, and hardly bat an eye at extremists' multiple attempts on Aelyx's life.
The Way clearly needs humans' help . . . but with what? And what will they ask for in return?
Can you tell our readers a little bit about Invaded, the second book in the Alienated series?
You bet! In the first book, ALIENATED, valedictorian Cara Sweeney met (and fell in love with) a smokin'-hot alien exchange student named Aelyx, who stayed with her family for part of the school year on Earth. In the sequel, INVADED, their roles are a bit reversed. Cara travels to L'eihr as a human exchange student while Aelyx remains on Earth to help repair the alliance between their people. It's the ultimate long-distance relationship with plenty of mystery, danger, and of course, romance.
How did you come up with Cara and Aelyx's story?
I was driving down the interstate in October of 2009, trying to come up with a story idea for that year's NaNoWriMo. (National Novel Writing Month) A few concepts came to me, but I dismissed them because they were boring or had been done before. Then it just came to me: What if a teenage girl had to host an alien exchange student? Bam. The rest is history.
For those who haven't read the first book, yet, could you describe Cara and Aelyx and their relationship?
Cara is whip-smart (hello, she's the valedictorian!) and crazy competitive, so when she meets Aelyx, a highly-evolved boy who easily defeats her at every game, she's not too happy about it. And neither is he. Aelyx's view of humanity is quite dismissive, and he doesn't want to be on Earth any more than Cara wants him there. But they slowly learn to respect each other, and that respect turns into friendship, which gradually turns to love.
Do you have a favorite quote from any of your Alienated books that always steals a goofy smile from you?
I think my favorite quote from ALIENATED is "I won't be your intergalactic booty call."
As a writer and a reader, what would you say an extraterrestrial love story has to have to make readers fall in love?
With any paranormal or extraterrestrial romance, the otherworldly character needs to be relate-able. Readers need to feel enough familiarity--and glimpses of humanity--in the character to see themselves falling in love.
This should feel like choosing who's your favorite son, but which Alienated cover is your favorite one?
Oh, that's easy. The cover for ALIENATED is my favorite. I love the vibrant colors and the overall romantic feel to it.
Imagine that we get the chance to see the Alienated Series on the big screen (*hope so!*). We have picked our own dream cast, but who would you pick to represent your characters?
This is SO HARD, because I've never found an actor who looks like the Aelyx in my head. The closest I've ever come is an actor named Steven Strait, who played Warren Peace in Disney's "Sky High." As for Cara, I think Emma Stone would portray her well!
Click on the banner below to follow all the stops in the 2014 Debut Authors Bash!
Melissa Landers writes light, romantic sci-fi for teens and the young at heart. ALIENATED is now available from Disney Hyperion, and the sequel, INVADED, will release February 3, 2015.
**IMPORTANT** Please do not request an ARC through Goodreads. All review copies are distributed by the publisher.