Welcome to my Tour Stop for Opposition (Lux #5) by Jennifer L. Armentrout!
This is your chance to show the Lux Fan you have inside or the potential fan you can be (if you haven't read the series but you are going to - like right now!). Because you can win a signed copy of Opposition (Lux #5) by Jennifer L. Armentrout. All you have to do is answer the following question in the comments! All winners will be pooled together and the Publisher will select 1 or 2 random winners! You have until July 31, 2014 to enter!
My Top 5 Reasons To Be a Lux Fan
1) Daemon Black
I think that there's no need to explain further, but since it's Daemon, he deserves a little explanation (wink). He's the hottest YA alien in the bookish world. To get an idea for those of you who haven't read the series, to me, he's like an Alien version of Damon Salvatore: all attitude, always the possible bad guy, getting on your nerves, that makes you fall in love with him and also has a tender side. All passional and loyal. *Swooning right now just by thinking about him*
He brings the romance, the action and the funny scenes, so... without Daemon and his sexiness and his funny and arrogance, there won't be a Lux series.
2) The Romance
The romance between Katy and Daemon is something progressive and that lights up everything! It's not some dumb romance, I-see-you-and-I-instatly-fall-in-love-with-you. There's an obvious attraction from the very beginning (that's Daemon's hotness to blame), but at first they hate each other! You know what they say... there's a thin line between hate and love, and these two know it.
And Jennifer L. Armentrout is an amazing writer, which means mind-blowing romance scenes that makes you go all-crazy-lux-fan when you end the book and have to wait a whole year to read more about Daemon and Katy.
3) Katy Swartz
Katy's one of those girls you feel identified with when you read through her point of view. I felt more identified with her, because she's a book lover and blogger! Imagine my surprise when Jennifer L. Armentrout created a little nerdy blogger to find hot, alienated Daemon!
4) Badass & Hot Aliens
I might sound repetitive, but Jennifer did a great job with her characters. Specially with the alien ones: all full of hotness and that would make her readers swoon over them. Because, guys, Daemon's not alone. There's more aliens with him (not as perfect and cocky as him) that bring the series to a whole new level.
5) Action and Bad Guys
Because with a couple of bad guys, the series would be (Maybe. 'Cause with Daemon in them I'm beyond happy) kind of boring, we have a couple of bad guys. The Government, another Alien specie that kills aliens like Daemon... And things get more and more complicated as you finish each book. This two things are the cause of having a turmoil of feelings while reading the book and you end up like this:
And all you want to do is hug both Katy and Daemon, grab them and put them in your room so the bad guys won't be able to catch them and finally they can have their pretty, swoony and happy ending.
These are the five reasons why I adore, love and obsessed about the Lux Series. What are your reasons? If you haven't read the book, you can let us know why are you dying to read the books.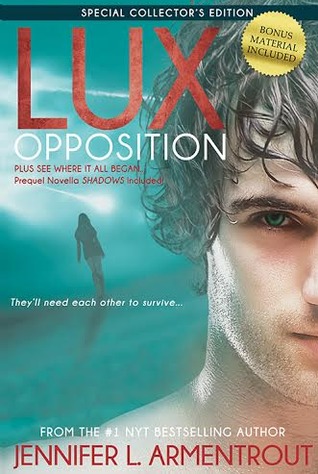 Publisher: Entangled: Teen
Release Date: August 5th 2014
Synopsis:
Katy knows the world changed the night the Luxen came.
She can't believe Daemon welcomed his race or stood by as his kind threatened to obliterate every last human and hybrid on Earth. But the lines between good and bad have blurred, and love has become an emotion that could destroy her—could destroy them all.
Daemon will do anything to save those he loves, even if it means betrayal.
They must team with an unlikely enemy if there is any chance of surviving the invasion. But when it quickly becomes impossible to tell friend from foe, and the world is crumbling around them, they may lose everything— even what they cherish most—to ensure the survival of their friends…and mankind.
War has come to Earth. And no matter the outcome, the future will never be the same for those left standing.
OPPOSITION Comes out August 5th! Pre-Order It Now!
Publisher: Entangled: Teen
Release Date: June 3rd 2014
Synopsis:
Now available together for the first time. Don't miss Obsidian and Onyx, the first two books in Jennifer L. Armentrout's bestselling Lux series. Also includes bonus content exclusive to the print edition!
Starting over sucks.
When we moved to West Virginia right before my senior year, I'd pretty much resigned myself to thick accents, dodgy internet access, and a whole lot of boring... until I spotted my hot neighbor, with his looming height and eerie green eyes. Things were looking up.
And then he opened his mouth.
Daemon is infuriating. Arrogant. Stab-worthy. We do not get along. At all. But when a stranger attacks me and Daemon literally freezes time with a wave of his hand, well, something... unexpected happens.
The hot alien living next door marks me.
You heard me. Alien. Turns out Daemon and his sister have a galaxy of enemies wanting to steal their abilities, and Daemon's touch has me lit up like the Vegas Strip. The only way I'm getting out of this alive is by sticking close to Daemon until my alien mojo fades.
If I don't kill him first, that is.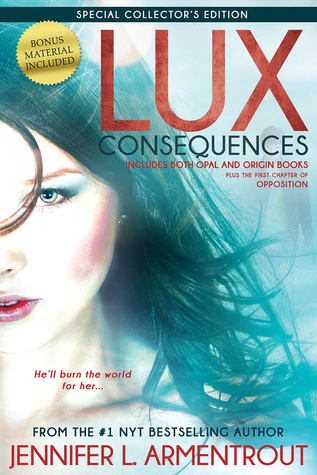 Publisher: Entangled: Teen
Release Date: June 3rd 2014
When he set out to prove his feelings for me, he wasn't fooling around. Doubting him isn't something I'll do again, and now that we've made it through the rough patches, well... There's a lot of spontaneous combustion going on.
But even he can't protect his family from the danger of trying to free those they love.
After everything, I'm no longer the same Katy. I'm different... And I'm not sure what that will mean in the end. When each step we take in discovering the truth puts us in the path of the secret organization responsible for torturing and testing hybrids, the more I realize there is no end to what I'm capable of. The death of someone close still lingers, help comes from the most unlikely source, and friends will become the deadliest of enemies, but we won't turn back. Even if the outcome will shatter our worlds forever.
Together we're stronger... and they know it.
Check out the other blogs participating for more chances to win!
July 1- Stuck in Books
July 2- Daemon and Kitten
July 3- The Eater of Books
July 4- Between Fantasy and Reality
July 6- Chapter by Chapter
July 7- Jenuine Cupcakes
July 8- LuLo Fangirl
July 12- Reader Lives a Thousand Lives
July 14- Young Adult Book Haven
July 16- Girls in the Stacks
July 17- Always YA at Heart
July 23- Diety Island
July 24- Step into Fiction
July 25- Twin Sisters Rockin' Book Reviews
July 29- Books Over Boys
July 30- The Unofficial Addiction Book Fan Club
# 1 New York Times and USA Today Bestselling Author Jennifer L. Armentrout Lives in West Virginia.
All the rumors you heard about her state aren't true.
Well, mostly. When she's not hard at work writing, she spends her time, reading, working out, watching zombie movies, and pretending to write.
She is the author of the Covenant Series (Spencer Hill Press), the Lux Series (Entangled Teen), Don't Look Back (Disney/Hyperion) and a yet untitled novel (Disney/Hyperion), and new YA paranormal series with Harlequin Teen.
Jennifer also writes New Adult and Adult romance under the pen name J. Lynn. The Gamble Brothers Series (Tempting the Best Man/Tempting the Player) and Wait for You. Under her pen name, she is published with Entangled Brazen and HarperCollins.