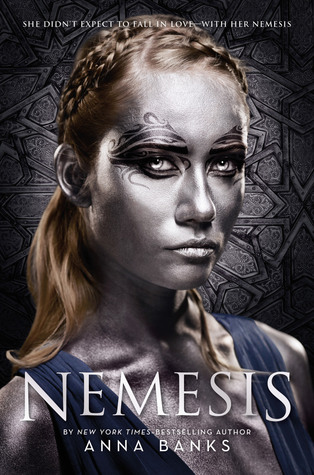 Nemesis
(Nemesis #1)
by
Anna Banks
Publisher: Feiwel & Friends
Release Date: October 4th 2016
Rate: Enjoyed it (4 stars)
Synopsis:
The princess didn't expect to fall in love--with her nemesis.
Princess Sepora of Serubel is the last Forger in all the five kingdoms. The spectorium she creates provides energy for all, but now her father has found a way to weaponize it, and his intentions to incite war force her to flee from his grasp. She escapes across enemy lines into the kingdom of Theoria, but her plans to hide are thwarted when she is captured and placed in the young king's servitude.
Tarik has just taken over rulership of Theoria, and must now face a new plague sweeping through his kingdom and killing his citizens. The last thing he needs is a troublesome servant vying for his attention. But mistress Sepora will not be ignored. When the two finally meet face-to-face, they form an unlikely bond that complicates life in ways neither of them could have imagined.
Sepora's gift could save Tarik's kingdom from the Quiet Plague. But should she trust her growing feelings for her nemesis, or should she hide her gifts at all costs?
Nemesis is one of those books reviewers like me are afraid of starting due its popularity. You are always trying not to be "pushed" into liking it or hating it because what others have said before you. So when I started this book I have to confess that I was wary at first. But as it happened Sepora with Tarik, I didn't expect to fall for this story as much as I did.
Nemesis starts with Princess Magar Sepora running from her kingdom, Serubel, and venturing herself into her father's enemy kingdom in order to scape her evil father. Trying to prevent an impeding war, she ends up being sold to no other that King Tarik of Theoria; Sepora's nemesis. However, her position soon ends up being advantageous in order for her to try to prevent the war helping the Theorians. But Tarik's kingdom has more problems that the war coming from Serubel.
I believe that Nemesis has the potential to become a great series. Anna Banks knew how to catch the reader's attention with this book, has all the elements to become a mind-blowing story and the characters are approachable as well as likable.
What I liked about this book is that from the first chapter you are in fact in Anna's imaginary kingdoms. And even though we can recall a sort of resemblance to other stories, her setting and the details do not. Also I liked that, as I said before, both characters, Tarik and Sepora, are approachable. But, moreover, I liked that there was a constant banter between these two and that Sepora never ceased to be herself even in another kingdom.
Having to write from different points of view must be difficult. But Anna found a way to create each individual character its own voice. I liked that Sepora had from time to time a way to bring a smile to me while reasoning to herself and that Tarik gave a more quite and philosophical thinking due to its new role as a king.
What I think that the story was missing was a sort of cliffhanger in the story. It is true that the ending leaves the reader wanting, desiring for more books. However, the story has no surprise effect nor does leave you breathless from what happened in it. And I think that Nemesis is the kind of story that can do that: leave a reader breathless.
I highly recommend this new series to all fans of the Throne of Glass and the Falling Kingdoms' series. I say give an opportunity to this story, because I can tell you know that I have the feeling that the second book is going to bring a mind-blowing story.
I read this book in exchange of an honest review. I want to thank Anna Bank's publicist for sending me a physical ARC of the book.
NYT Bestselling YA author of The Syrena Legacy series: OF POSEIDON (2012), OF TRITON (2013), OF NEPTUNE (2014).
Repped by rockstar Lucy Carson of the Friedrich Agency.
I live with my husband and daughter in the Florida Panhandle. I have a southern accent compared to New Yorkers, and I enjoy food cooked with real fat. I can't walk in high heels, but I'm very good at holding still in them. If you put chocolate in front of me, you must not have wanted it in the first place.
Guardar
Guardar
Guardar
Guardar