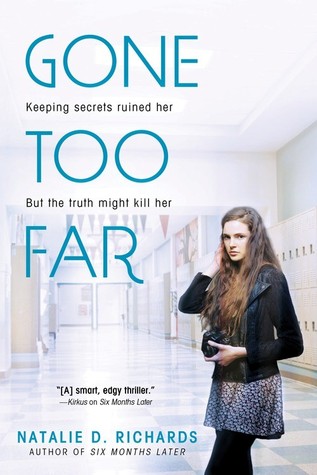 Gone Too Far
by
Natalie D. Richards
Publisher: Sourcebooks Fire
Release Date: January 6th 2015
Synopsis:
Keeping secrets ruined her life. But the truth might just kill her.
Piper Woods can't wait for the purgatory of senior year to end. She skirts the fringes of high school like a pro until the morning she finds a notebook with mutilated photographs and a list of student sins. She's sure the book is too gruesome to be true, until pretty, popular Stella dies after a sex-tape goes viral. Everyone's sure it's suicide, but Piper remembers Stella's name from the book and begins to suspect something much worse.
Drowning in secrets she doesn't want to keep, Piper's fears are confirmed when she receives an anonymous text message daring her to make things right. All she needs to do is choose a name, the name of someone who deserves to be punished...
At seven, Natalie D. Richards wrote about Barbara Frances Bizzlefishes (who wouldn't dare do the dishes.) Now she writes about awesome girls, broody boys, and all things dark and creepy. Natalie lives in Ohio (Go Bucks!) with her techno-wiz husband, three amazing kids, and a seventy pound dust-mop who swears he's the family dog. Her psychological thriller, Six Months Later, will be released in October 1, 2013 by Sourcebooks Fire. Until then, you'll probably find her writing her next book or trying to wade through the towers of dog-eared paperbacks that have taken over her bedroom.