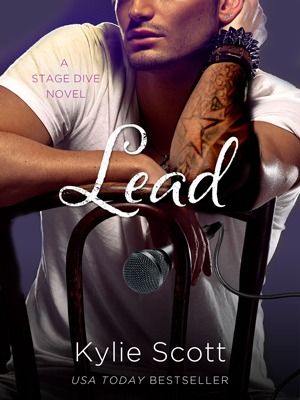 Lead
(Stage Dive #3)
by
Kylie Scott
Publisher: St. Martin's Griffin
Release Date: July 29th 2014
Rate: Enjoyed it (4,5 stars)
Synopsis:
Stay up all night with the sexy rockers in Stage Dive, the epic New Adult series from New York Times bestselling author Kylie Scott, author of Lick and Play.
As the lead singer of Stage Dive, Jimmy is used to getting whatever he wants, whenever he wants it, whether it's booze, drugs, or women. However, when a PR disaster serves as a wake-up call about his life and lands him in rehab, he finds himself with Lena, a new assistant to keep him out of trouble.  
Lena's not willing to take any crap from the sexy rocker and is determined to keep their relationship completely professional, despite their sizzling chemistry. But when Jimmy pushes her too far and Lena leaves, he realizes that he may just have lost the best thing that ever happened to him.
As a Stage Dive fan, Lead was definitely one of my most expected reads this year. This time it was Jimmy's story and it definitely rocked my reader-world.
In this new Stage Dive story, we have the change to meet Jimmy, who we have met in the other two Stage Dive stories and that we got to see that he had some problems with booze, drugs and, to not leave the it behind in the rock world, women.
If you have read the previous two Stage Dive novels, you might have read about Jimmy and get an earlier impression of him. Mine was that he was kind of a jerk. However, Lead is the perfect book to understand Jimmy's previous behavior and to get to know him better. He changes throughout the story with Lena's help and the insight is very enlightening.
Lead is different from the other two stories. This one touches more serious problems like addiction and the relationship in this one is not a crazy romantic one (like Mal's) or a sweet version of the Hangover (like David's). Their relationship is a professional one that turns out into much more after months of living together. It definitely takes its time to become a meaningful relationship. So much, that I even started to become anxious, wondering when they were going to confess to each other that they had something going on between them.
Throughout the whole story, Lena has a very important role. She's good, comprehensive and strong. She has some attitude, needed to deal with Jimmy Ferris, and you get to understand her and her frustration over Jimmy's attitude sometimes.
Jimmy, on the other hand, has a lot to deal with, not to mention his addiction, and it seems that is hard for him to trust anyone. Let alone to rely on someone to get over his addiction. Despite this, as our rocker heals, we get to meet him and the sexy and sweet person he really is and, by the end of the book, you are definitely a Jimmy Ferris fan.
Although this book can be perfectly read as a standalone, I highly recommend to read the books in order. This way you can get a pretty early insight into Jimmy's world and get to meet the other Stage Dive's members and their stories. I'm still faithful to Mal, but I have to confess that I had a great time reading Lead and got a chance to meet the real Jimmy Ferris.
So, if you ask me if I would recommend you this series? I would not tell you yes, I would tell to run to nearest store and start reading them like two minutes ago. You definitely need to meet the Stage Dive rockers!