Siren's Song
(The Storm Siren Trilogy #3)
by
Mary Weber
Publisher: Thomas Nelson / HarperCollins
Release Date: March 1st 2016
Synopsis:
Nym and Draewulf prepare to face off in a battle destined to destroy more lives than it saves.
With the loss of Tulla still fresh in mind, Rasha's fate unknown, and Lord Myles taken over by the dark ability, Nym and the few Bron soldiers rush to warn Cashlin's queen. Only to discover it may already be too late for the monarch and her eerie kingdom. As the Luminescents are sifting through Nym's past memories and the queen is reading into her future, Nym is given a choice of how to defeat Draewulf, but the cost may be more than she can bear. And even then there are no guarantees.
With that reality burrowing into her bones—along with the guilt of the lives she will sacrifice—Nym returns to her homeland of Faelen to raise an army of peasants through promises of freedom. But when the few friends she has left, along with the world and citizens she loves, are staring down the face of a monster and his undead army, will Nym summon every element her blood is capable of controlling . . . or surrender to a different strength—one of sacrifice?
Because in the end, death may be more merciful for them all.
Hello Mary! We are super excited to have you once again in our FFBC tours celebrating the release of your third and final book in the Storm Siren's trilogy.
Aww! Thanks for hosting me (and for the past 3 YEARS)!!! <3 <3 <3
Could you tell our Book Addicts a little bit about Siren's Song and what's going to happen?
Sure! Siren's Song is the final book in the Storm Siren Trilogy, and it's basically where the plot hits the fan and not everyone's getting out alive (as if we thought they were).
It begins with Nym in creepy-as-heck Cashlin where secrets of her past are revealed – and the survival of the entire Hidden Lands may or may not depend upon them. Throw in a lot of death, love, sacrifice, demons of the past, dark altered powers of the present, hot guy in a towel, and a massive wraith army led by the shapeshifter, Draewulf, and you've got a general taste. I can also add a few bloggers recently tweeted me comments such as: "If I had your phone you'd be getting an earful right now," and "I am both sobbing and laughing, and what have you done?" So…yeah.
:)
For those readers who haven't started your series yet, can you tell us a bit about Nym and her world?
Nym is the only Elemental (controls the weather) in a kingdom where Elementals have always been born male and are promptly killed at birth. The series surrounds her journey from a slave to something more – a savior if her kingdom can have its way. Except she's not sure she wants to save the people who've enslaved her – let alone take on an insane shapeshifter who needs her and her super-powered friends for his own survival.
Has Nym changed from the girl we met in Storm Siren? What would you say are the best qualities of Nym and what she has learned from her journey?
I think some of the most humbling and encouraging compliments from reviews have been how strong Nym's character arc is. She's gone from a slave who sees herself as a monster to a true leader of her people. And yet I'd say her internal values of compassion and treasuring life have remained the same.
As far as what she's learned – she's definitely grown to trust, to forgive, and to realize that she is far more capable than she ever imagined. <3
Tell us your favorite quote from Siren's Song.
*laughs* I don't think I can answer that! But I will say the last line of the book is definitely one of them.
:)
Is there a specific scene that you had the most fun to write?
The battle scene! I loved developing the drama and tension and elements and bizarre characters that play into it. Also? Any scene with little Kel.
If you had to pick one song to be the Theme Song for Siren's Song – Which one would you pick?
"Tonight" by Smashing Pumpkins.
:)
Are there any recommendations you could give your readers to be in the "perfect mood" to read Siren's Song (specific music, snacks…)?
Ooh yes. The Lord of The Rings soundtrack, a cozy blanket, printable pics of Eogan, and a giant-size bowl of cereal. Also, tissues.
For an author, how does it feel to finally have a full series out in the world? Is it difficult to "stop" writing about Nym?
The other day I walked into Walmart and Siren's Song was sitting on the shelf. I think that's when it hit me that I've published three whole books – and my brain was like wait how did this happen?
Regarding the wrap-up, that's been bittersweet. I've loved my time with this world and characters, but I also feel satisfied with it. Plus…I may not be *exactly* finished yet. *looks away mysteriously*
What would you recommend to your fans to read after finishing your series if they are craving for more books like the Storm Siren trilogy?
THESE, THESE, THESE!!!!!
What's next for you?
Okay so I have the first book in my futuristic sci-fi duology releasing next June (2017). It's a high-stakes story about a Native American girl set to rescue her brother from an ice planet that's appeared in Earth's solar system. Kind of an Ember in the Ashes meets Ender's Game. <3
Thank you so much for everything, Mary!
Thank YOU!!!!!!! <3 <3 <3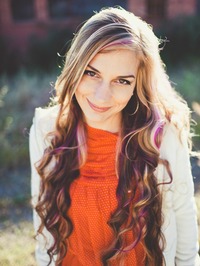 Mary Weber is a ridiculously uncoordinated girl plotting to take over make-believe worlds through books, handstands, and imaginary throwing knives. In her spare time, she feeds unicorns, sings 80's hairband songs to her three muggle children, and ogles her husband who looks strikingly like Wolverine. They live in California, which is perfect for stalking L.A. bands, Joss Whedon, and the ocean. Her debut YA fantasy novel,
STORM SIREN
and
SIREN'S FURY
are available now in bookstores and online, and SIREN'S SONG will be out March 2016 from TN HarperCollins.