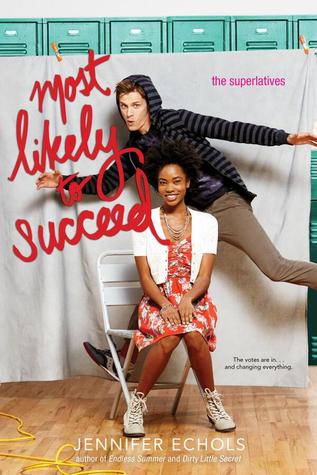 Most Likely to Succeed
(Superlatives #3)
by
Jennifer Echols
Publisher: Simon Pulse
Release Date: August 4th 2015
Genre: Young Adult, Contemporary, Romance, Realistic Fiction
Synopsis:
In this sexy conclusion to The Superlatives trilogy from Endless Summer author Jennifer Echols, Sawyer and Kaye might just be perfect for each other—if only they could admit it.
As vice president of Student Council, Kaye knows the importance of keeping order. Not only in school, but in her personal life. Which is why she and her boyfriend, Aidan, already have their lives mapped out: attend Columbia University together, pursue banking careers, and eventually get married. Everything Kaye has accomplished in high school—student government, cheerleading, stellar grades—has been in preparation for that future.
To his entire class, Sawyer is an irreverent bad boy. His antics on the field as school mascot and his love of partying have earned him total slacker status. But while he and Kaye appear to be opposites on every level, fate—and their friends—keep conspiring to throw them together. Perhaps the seniors see the simmering attraction Kaye and Sawyer are unwilling to acknowledge to themselves…
As the year unfolds, Kaye begins to realize her ideal life is not what she thought. And Sawyer decides it's finally time to let down the facade and show everyone who he really is. Is a relationship between them most likely to succeed—or will it be their favorite mistake?
Kaye and Sawyer are that couple you know from school who are complete opposites—he's a bad boy and she's buttoned up—yet they've flirted with each other for years. Now they've found out that their friends actually think they'd make a great couple, and they take this idea for a wild test drive.
Writing Biggest Flirts (#1) was a party because I was just starting out and could go in any direction I wanted, theoretically. They got harder from there.
I definitely found the series harder, for precisely the reason Biggest Flirts was so fun to write. Once you've established your worldbuilding in the first book, you have to stick to that in the following books, and that necessarily shuts down some of your choices.
What I love about Kaye is that she is genuinely eager to change and experiment with where her life is going by the end of the book. That takes a lot of guts, and she finds that in herself along the way.
What I love about Sawyer as a character is NOT something I would love about him in real life. It would drive me crazy. But he actually often does the opposite of what I'd predict he would do if I were his friend. He kept surprising even me, and I wrote him!
Wow, that is a really hard question. I love them all for different reasons. The party girl of the heroines is Tia from Biggest Flirts, and she is my favorite—probably because she is so unlike me. Harper is introverted and gets absorbed in her creative pursuits like me, and Kaye is a brainiac who feels like a failure like me (my high school actually voted me Most Likely to Succeed, which I found astonishing), so writing them was just writing different aspects of myself. As for the guys, Brody is darling and I think most readers will love Sawyer, but I have a soft spot for Will. I guess I really thought a lot about what I was putting him through as a character, and I felt kind of bad about it because he is, as Tia says, the nicest guy ever.
"Always Summer" by Yellowcard was the last song on the playlist that I listened to over and over while writing the book. (I make a soundtrack for every book.) As I interpret the song, it's about a guy who's in a position a lot like Sawyer's. He has been successful in starting his life over, and he's astonished at how his friends, especially Kaye, welcome him and love him. And the lyrics repeated over and over could be Sawyer talking directly to Kaye: "I loved you first. I love you still. I always will."
I think she's in a really difficult situation, as are all teenagers about to graduate from high school, and that's why I find this age so fascinating to write about. You are making decisions about school and career—and sometimes, relationships—that will affect the rest of your life, yet you really don't have enough experience to make those decisions. All you can do is make an educated guess about the right path for you. And that's the key to my advice. You don't know if you will change your mind in a year about the college major you had your heart set on for years and years (I did). But you can research colleges and make sure there are quite a few options at each college you apply to that interest you, not just one. You don't know if you'll actually enjoy the career you have your heart set on until you're doing it. But you can get a taste of it by doing an internship—you'll probably figure out if this would actually be a job you'd hate (This happened to my roommate.) You can make assumptions and go by what your friends have told you or what your parents want you to do. You can also, in this day and age, really research possible paths for your future so that you're not, for instance, majoring in business at Columbia because your mother did and this will make her proud. Your mom can't live your life, and she isn't you.
Sawyer and Kaye in this book are my favorite because this romance has been building for years (and three books!) and they have waited a long time for this.
My critique partner, Victoria Dahl—you would think I would not have to buy my own critique partner's books but you would think wrong because Tia is partially based on her and Tia doesn't remember or get around to stuff like that, right? YA author Rosemary Clement-Moore. Adult romantic comedy author Jennifer Cruisie--I've been heartbroken that she hasn't come out with anything new in a while.
I'm really not sure. My editors have all left my publisher—it's common for them to switch around among the big publishing houses. Authors call this being "orphaned." So I'm just writing the book I want to read and hoping my agent can sell it somewhere, and I can start over.
Jennifer Echols was born in Atlanta and grew up in a small town on a beautiful lake in Alabama—a setting that has inspired many of her books. She has written nine romantic novels for young adults, including the comedy MAJOR CRUSH, which won the National Readers' Choice Award, and the drama GOING TOO FAR, which was a finalist in the RITA, the National Readers' Choice Award, and the Book Buyer's Best, and was nominated by the American Library Association as a Best Book for Young Adults. Simon & Schuster will debut her adult romance novels in 2013, with many more teen novels scheduled for the next few years. She lives in Birmingham with her husband and her son.
US Only
If the winner has one of the Superlatives book, he/she can choose another book instead written by Jennifer Echols.